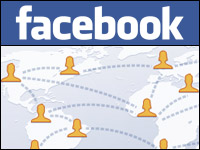 Facebook is enhancing its music listening options by launching Listening With Friends, a feature that will let Facebook friends listen to music together via chat.
As the feature rolls out to all of Facebook's 800 million users over the next few weeks, a music note will appear next to a user's name in the chat list if he or she is listening to a song. If other users want to listen in, they can hover over the other user's name and click a 'Listen With' button. Then, that user will be taken to the music server that's playing the song. Only two servers, Spotify and Rdio, are connected to Listening With Friends for now, but the site said it plans to add more in the future.
If a user wants to listen in but doesn't use the Spotify or Rdio services, he or she will be prompted to install the program.
The feature can also be used as a group chat, where all members are listening to the same song, as long as one person is the designated DJ. Facebook said the users can chat about what they're listening to and experience it together, "just like when you're jamming out at a performance or dance club," according to the Facebook blog.
Facebook didn't respond to our request for further comment.
Facebook vs. World
The idea to incorporate music further into the social network matches the emphasis its places on online sharing, especially among peers.
"Facebook's Listen With Friends is a perfectly logical addition to their digital music offering, and I expect it will see some adoption," David Card, research director at GigaOM Pro, told TechNewsWorld.
For Facebook, users might be more likely to log into the site more frequently or stick around for longer if they're listening to music with friends. Music servers like Spotify, which already had a partnership with Facebook, will now see 800 million Facebook users with greater incentive to install their programs.
"These features that are actually doing the playing have a lot more to gain here, especially with a site like Facebook where everyone is connected," John Tinker, media analyst at Maxim Group, told TechNewsWorld.
Where's Discovery?
Music sites that aren't linked to Facebook, however, such as Turntable.fm, could have more to lose when going up against an established social network with around 800 million users worldwide. However, the main difference between a site like Turntable and something like Spotify's relationship with social networking is discovery and how people decide to share.
"We're really simply seeing two distinct markets. We have the on-demand market, where anything that Facebook does is going to help Spotify, and the more traditional radio market, where there's an element of discovery. Now, it's going to shift on how we define discovery. In the old days, you could turn on the radio, and now, you have friends. Spotify is making the bet that friends are going to be the discovery, whereas Pandora is not making that bet, they're saying there's still the old radio and discovery there," said Tinker.
Fans of sites such as Turntable and Pandora are also generally more dedicated listeners already invested in the experience those provide.
"Turntable.fm still delivers a much richer experience for people who are really into it," said Card.
That dedicated crowd can only take up so much marketshare, however, and Facebook's millions of mainstream users are likely to turn there for a casual listening experience.
"Group listening will probably remain a niche application, though, with less impact on music discovery than social tools that don't require as much active, real-time participation," said Card.
Whether or not that's the direction the music industry is headed remains to be seen, however, and since the digital entertainment industry is still working its way through questions of legal restrictions, social opportunities, the monetization of content and discovery, social networks and music servers don't yet have all the answers.
"The Spotify bet is, how important are your friends in what you listen to? And we're finding out they're very important, but does that mean it's going to change radio habits for generations? That's the unknown, and we're finding it out in real time," said Tinker.