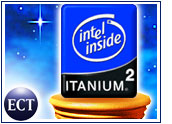 Intel announced the latest versions of its Itanium 2 processors, six chips designed to add heft to the product line.
The manufacturer released three multi-processor chips, two dual-processor chips and a low-volt chip. At the high-end, the highlight of the announcements is a 1.60 GHz processor with 9 MB Level 3 (L3) cache. The chips will cost $4,226 in bundles of 1,000.
The low-volt chip is power-efficient and emits less waste heat than higher-end chips. It runs at 1.30 GHz and has 3 MB L3 cache. Bundles will sell for $530.
HP, Unisys Servers
To coincide with Intel's announcement, Hewlett-Packard — long Intel's partner in the development of Itanium — and Unisys released servers that use the new processors. Intel said in a press release that more than 70 original equipment manufacturers (OEMs) now ship Itanium products.
The six chips continue the steady progress Intel has made with Itanium, Gordon Haff a senior analyst at Illuminata, told TechNewsWorld.
"They bring the usual thing that new iterations of processors bring: more performance, more caching," he said. "Intel is also doing some price tweaking, as it usually does."
Down to Reality
Itanium's goals, which were lofty when the new architecture was first announced, have come down to reality. Instead of touting the 64-bit Itanium 2 as the sole architecture of the future, Intel has pushed to position Madison, the current version of the chip, as a replacement for PA-RISC systems. In that, and in scaling back to realistic expectations since the release of Madison, it has been successful, Haff said.
"Itanium 2 continues to advance on a pretty good trajectory within the class of products it's competing with," he said. That class includes IBM's Power 5 and Sun's Sparc. "It's moving along nicely in the context of a RISC-replacement processor and processor for high-performance computing."
"Within that high-end context, it's doing quite nicely," he said, but he added that 64-bit x86 processors are the volume product.
The other chips Intel released are 1.60 GHz processor with 6 MB L3 cache that will sell for $1,980 per bundle and a 1.50 GHz processor with 4 MB L3 cache for $910 per bundle; both are multi-processor chips. Intel also released two dual-processor products with 1.60 GHz with 3 MB L3 cache, one that has 533 MHz frontside bus (FSB) and will cost $1,172 per bundle and one with 400 MHz FSB for $851.
Intel plans to release Montecito, its dual-core Itanium chip, in the fourth quarter of 2005.