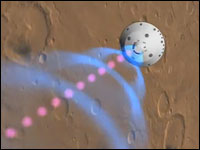 NASA is gearing up for a 2020 Mars rover mission designed to search for signs of past life, according to a 154-page report released Tuesday.
The unnamed 2020 mission's search for life is the "next logical step" for Martian exploration, NASA said.
The new rover's design will be based on its predecessor, Curiosity, which landed on Mars last summer and is still roaming the planet's surface. During Curiosity's development, doubts were raised about whether it would be possible to land such a sophisticated vehicle there. With those questions answered following Curiosity's success, the 2020 mission will be better equipped to scan Mars for evidence of past life.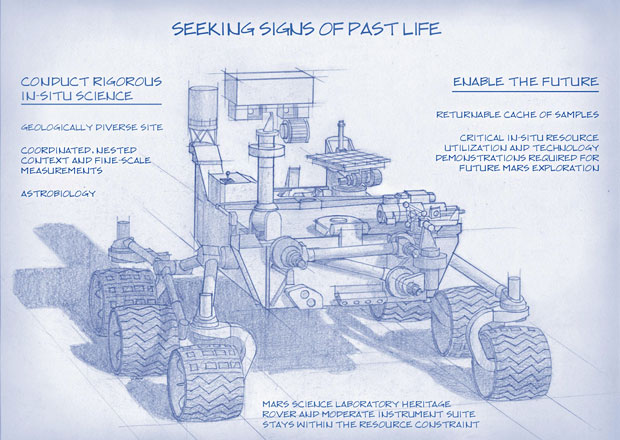 Planning for NASA's 2020 Mars rover envisions a basic structure that capitalizes on re-using the design and engineering work done for the NASA rover Curiosity, which landed on Mars in 2012, but with new science instruments selected through competition for accomplishing different science objectives with the 2020 mission. (Image Credit: NASA/JPL-Caltech)
Curiosity was built to search for places on Mars that could have sustained life, and the 2020 rover will be tasked with checking those hospitable areas for traces of it.
"Who wouldn't want to search for signs of life on Mars now that from the earlier rovers and orbiters, we know Mars had a past history with lots of liquid water?" asked Jonathan Lunine, Ph.D., director of the Center for Radiophysics and Space Research at Cornell University.
Digging Up and Bagging Rocks
To search for life, the 2020 rover will find, collect and store rock and mineral samples in a hunt for biosignatures — potential clues within the samples that would indicate the materials could have formed biologically.
As many as 31 rock core and soil samples could be collected and packaged for eventual return to Earth. NASA doesn't yet have a plan in place to get those samples back, but it is designing the system in the hope that one day scientists on Earth will have a chance to examine the materials.
The rover is expected to cost about US$1.5 billion — about $1 billion less than Curiosity cost. The lower amount is thanks partially to repurposing Curiosity's design plan and even some of its spare parts, chassis and landing system.
Building From Previous Space Successes
Even if the rover's search for past life doesn't yield any results, there is still plenty to learn from the far-off planet, said James R. Webb, Ph.D., professor of physics and director of the SARA Observatory at Florida International University.
"In general, in spite of the amazing success of Curiosity, many questions remain unanswered and much Martian territory remains unexplored," he told TechNewsWorld. "Mars is a very interesting world. The analogy is sending a small robot to the Earth, landing in the middle of the Sahara desert, roving a few square miles, then trying to paint a picture of the history and evolution of the Earth. We are only scratching a small part of the surface of Mars."
That knowledge could help inform and secure future manned missions. However distant a dream those voyages might be, it is still an ultimate goal of most space exploration programs, Cornell's Lunine told TechNewsWorld.
"The more we know about the Martian surface, the safer the surface exploration part of a mission to Mars will be," he pointed out. "Of course, that's a long way off."
Getting Commitments
Given that U.S. funding for space exploration has taken significant cuts in recent years, the nation's attitude toward NASA and other space programs will have to change before an astronaut can set foot on Mars, said Webb.
"The challenges are both Earth-based and space-based," he noted. "Even getting funded year-to-year is a huge uncertainty in this political climate."
Missions like Curiosity and the 2020 rover are doing their part to change that attitude among private citizens as well as public officials, Lunine said.
However, the hoopla surrounding a single event, such as Curiosity's landing, is short-lived. Planning, designing and launching a spacecraft requires a years-long commitment that many officials still aren't willing to make, meaning the future of the U.S. space program is still very much in jeopardy, he explained.
"When these rovers land, there's so much enthusiasm and excitement that we seem to become a nation of space nuts," said Lunine, "but when it comes time to sit down and plan a long-term program to, let's say, put humans on Mars — we suddenly become very thrifty as a nation. The thrill's in the ride, but someone's gotta build that ride before we climb onboard."