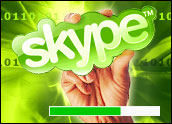 In its first release since it was acquired by eBay earlier this month, VoIP provider Skype today introduced a new version for Windows platform.
The new Skype for Windows 1.4 includes more mobility options, new ways for callers to personalize Skype with ringtones, sounds and pictures.
"Today, we are thrilled to be delivering on this promise by offering a new version of Skype which both new and existing callers will find adds powerful and innovative new features like call forwarding and personalization, as well as offering our best ever sound quality on our simplest product to install and use," said Niklas Zennstrom, CEO and Co-founder of Skype.
Understanding Customers
"We are passionate about really understanding what motivates people to want to make Internet communications a part of their everyday lives, and listening to our callers about what they want from Skype allows us to stay ahead of the game," Zennstrom continued.
Skype recently embarked on a global survey to better understand how people around the world use Internet communications and what they expect from next-generation personal communications services.
According to the independent study, Skype is used once or several times a day by 76 percent of its callers. Skype callers are more international, with 85 percent communicating with people living abroad.
The research revealed Skype's broad base of early adopters are eager to embrace new features, with 79 percent interested or very interested in receiving calls from land lines, and 73 percent interested or very interested in adopting call forwarding.
Premium Services
The new Skype for Windows Version 1.4, which was first available in beta in August, incorporates two new premium services requested by Skype callers.
Skype's new Call Forwarding service will allow callers to forward incoming Skype calls to another Skype Name, or up to three land line or mobile numbers when they're away from Skype, at no cost to the caller.
The premium Personalized Skype service allows users with the latest version of Skype to download pre-recorded voice clips and sounds to use as a ringtone or to customize any of the default sound events in Skype. There is also a variety of pictures and avatars.
Targeted Features
Atlantic-ACM founder and CEO Judy Reed Smith told TechNewsWorld that the new version of Skype includes features that some segments of its user base will embrace — and be willing to pay for.
"We think that everything about IP has first been sold on price, but will be sold on features," Smith said. "The wonderful aspect of having the technology so accessible to developers is they will be able to develop more features and adapt those features to different segments."
Smith anticipates Skype will introduce its products and services even faster in the wake of the eBay acquisition. The rumored video, she added, would be a perfect addition to a future Skype version.
"EBay is most likely to be an earlier adopter of video and other features that enhance the sale," Smith said. "Skype already has a base of computer to computer users and the eBay community is known to pick up features that fit their needs like they did with Paypal."