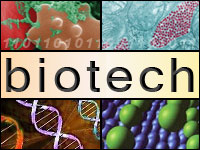 Researchers have developed a new technique for printing live cells by drawing inspiration from an ancient Chinese method of woodblock printing.
Scientists have been experimenting with different methods of printing cells, including using inkjet printers to build 3D cell layers. The method has been successful in several instances, including a recent study in England in which researchers printed adult eye cells for the first time. Still, it remains difficult to efficiently place and layer cells in this method, and sometimes only 50 percent to 80 percent of the cells survive.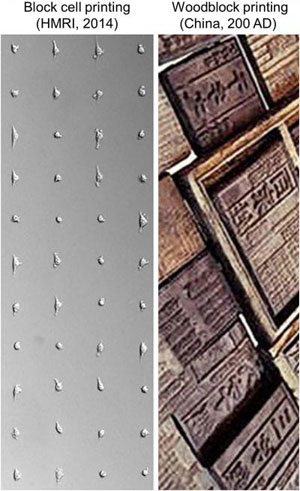 This image shows cells printed in a grid pattern by block cell printing technology (left) and woodblocks used in ancient Chinese printing (right). (Credit: Lidong Qin lab and Digital Museum of Science and Art, Beijing, China)
The challenge was to enable more cells to remain viable throughout the process.
"We were very interested in studying cell-to-cell communications and cell-molecule interactions, but arraying cells was a challenge," said team lead Lidong Qin, Ph.D., associate member of the Houston Methodist Research Institute.
"Existing cell-printing platforms are not good in keeping cell viability or controlling cell location," he told TechNewsWorld.
Looking to the Past
The researchers drew inspiration from Chinese woodblock printing, developed more than 1,800 years ago, which used ink-filled wooden stamps. To apply the technique to cells, the scientists designed a silicone mold filled with small holes.
Cells poured into the mold traveled through the columns of holes, finding an empty spot where they could settle. The researchers placed tiny hook-like traps along the sides of the columns to help the cells move past a particular spot and eventually form into the pattern dictated by the mold.
When the mold was removed, the cells remained behind in a 2-D cell array. The experiment with "Block-Cell-Printing," or "BlocC-Printing," as the technique's been named, took just 30 minutes. Most importantly, nearly 100 percent of the cells survived the printing process.
The method is more affordable than using inkjet cell printers, Qin noted. The materials for a BlocC mold add up to about US$1, and the other materials needed, besides the cells, include a simple syringe and a Petri dish. In comparison, an Inkjet cell printer could go for $10,000 or much more.
The team expressed hope that the method can be used in further research for drug development, particularly with studies that include cell function, cell-to-cell communication and tissue regeneration — the type of research that could help scientists learn more about the causes and potential cures for degenerative diseases such as Alzheimer's.
Going Beyond 2D
The research done in Houston and other work being done on tissue regeneration around the world will be an important part of biomedical research going forward. Scientists are learning more about how to grow new organs or make repairs to damaged or diseased tissue, as well as to restore neurological functions after trauma or disease, said George Truskey, Ph.D., professor of biomedical engineering and senior associate dean for research at Duke University.
"This is an important piece of this larger picture," he told TechNewsWorld. "The work is very elegant, allowing precise positioning of cells and the study of cell pairs or small clusters of cells. Also, the approach is gentle, with most cells surviving the procedure. I can imagine the system being multiplexed for high throughput studies of a number of conditions."
In order to truly make a dent in the field, though, the work will have to progress to the point where the researchers can print 3D structures, said James F. Leary, Ph.D., professor of biomedical engineering at Purdue University's Birck Nanotechnology Center.
"Human cells are designed to function in a 3D environment," Leary told TechNewsWorld. "While it appears to have advantages in terms of cell viability, these researchers need to think about how to position cells in three dimensions for their work to be of major importance. But I applaud their efforts and look forward to extending their work to three dimensions."