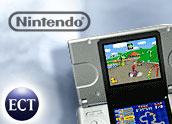 Nintendo is enforcing its dominance in the portable gaming world with the launch of its wireless Nintendo DS, a handheld double-screen console that will allow players to control games with touch or voice, monitor two-screen action and even compete wirelessly with others.
Nintendo DS will launch in the United States on November 21 for about US$150, just in time for the holiday rush.
Familiar characters — from Mario to Madden to The Urbz — and dynamic franchises will dominate the launch season for Nintendo DS. Players can immediately enjoy 10 to 12 games covering all genres, and the DS library will grow to 20 to 25 games by the end of the first quarter of 2005, according to company officials, with more than 120 games in development worldwide.
Road Map
"DS provides the road map to the future of video games," says Reggie Fils-Aime, Nintendo of America's executive vice president of sales and marketing. "The overwhelming support of strong third-party titles, combined with Nintendo's flagship franchise, makes this the strongest software support for any Nintendo system in more than a decade."
Indeed, RBC Capital Markets' analyst and managing director Stewart Halpern told TechNewsWorld that DS is a "big advance" over the current Gameboy system that should help extend Nintendo's lead in the market. That's important, he said, with Sony's plans to introduce its PSP in 2005.
"The $149 price point is a nice surprise that will help generate volume for the new console," Halpern said. "It's still going to be a relatively new product without much of an installed base, so it's probably not going to have a really big impact this holiday season, but over the course of the next year it should be a very successful product."
Product Features
The DS features a dual-screen with a built-in stylus for use on the touch screen, a built-in microphone for voice recognition and wireless capabilities via both local area network and WiFi connections. Each title takes advantage of the Nintendo DS features. For example, in Madden NFL 2005, one screen will show all 22 players on the field, while the other will display the key action.
The big question is, will Sony be able get an edge on Nintendo with its PSP? "The PSP is probably going to be a little more comparable to the PlayStation in terms of its demographic appeal," he said. "So I don't foresee that Nintendo is going to sacrifice much in the handheld market even with Sony's entry next year."