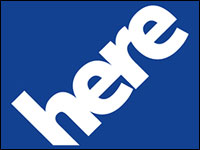 Nokia on Tuesday introduced a revamped maps application, Here, that will be available across several platforms and could compete with Google and Apple maps.
The cloud-based maps application will feature LiveSight technology that offers worldwide 3D views, voice-guided navigation tours, and driving directions including traffic notices for more than 500 cities.
In addition to introducing the service to Windows Phone, it also will release free apps for Android and iPhone users. The iOS version will be available within the next few weeks, Nokia said. Certain features, such as City Lens, which gives location-based information about nearby establishments, will only be available on Nokia phones, but the basic services will be available on multiple platforms.
The app might be a welcome sight for users disgruntled with Apple's Maps app.
One of the biggest critiques of Apple's maps was the lack of information about subway, bus and other public transportation. Here offers urbanites not only public transit directions, but also voice navigation for journeys on foot.
Nokia did not respond to our request for further details.
Playing an Old Game
Unlike Apple, Nokia didn't have to start from scratch to introduce it mapping function. In 2007, it acquired Navteq, a major player in the mapping industry, said Ming-Hsiang Tsou, professor in the geography department at San Diego State University.
"Nokia is not a newcomer," Tsou told TechNewsWorld. "The Nokia map team is actually the old Navteq team, who have significant experience in collecting street information and GIS data, 20 years more experiences than the Google Map team."
That knowledge might not only give Nokia the confidence to launch a new maps application even after seeing the negative feedback Apple got, but it also could be a prime chance for the struggling smartphone maker to compete in the crowded space, Tsou noted.
"The recent problems of Apple Maps created an opportunity for Nokia maps," he observed. "I think the Nokia map will do a better job compared to the Apple Maps, since the key team members are experienced GIS professionals."
Heading to the Cloud
The timing of Nokia's opportunity also means it can launch its application using cloud services, said Emmanuel Stefanakis, assistant professor in geographic information systems and science at the University of New Brunswick.
"Cloud-based services approach is growing, and this is the case in mapping services as well," Stefanakis told TechNewsWorld.
Having its service in the cloud can be a huge advantage for Nokia as it develops more services to enhance its mapping applications, said Tsou. The company can use certain location-based services to cater directly to users, but that comes with its own issues.
"The cloud will store all users' favorite restaurant locations, shopping malls and friends' home address," he noted. "Nokia's map's cloud function is very similar to Google's Favorite marks, contacts and My Maps. The disadvantage will be the privacy issue. Some people don't like to put friends' or relatives' home addresses on the cloud."
Overall, though, the Nokia service looks like Navteq could have given it a jump start to make some headway in the digital mapping space, Tsou observed.
"In general, I am very impressed and I think they did a good job," he said. "The new Nokia map combines all the cool features you can think of now in a location-based service domain. It is an integrated mapping platform for combining the Foursquare check-ins, Google's Street View, GPS navigation functions and OpenStreetMap [user-generated maps.] I'm going to pay attention to this so-called newcomer."