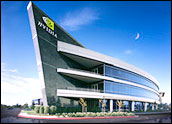 Graphics technology leaderNvidia has released details of a new graphics card it describes as "the world's fastest."
The Nvidia GeForce 8800 Ultra is expected to give gamers a boost in their never-ending quest to cram more state-of-the-art graphics onto PCs.
In fact, the graphics kingpin claims the new card performs 10 to 15 percent faster, on average, than its predecessor, GeForce 8800 GTX GPU, widely considered the fastest GPU (graphics processing unit) available across a wide range of top games and applications.
Evolving Graphics
Nvidia's new card supports video playback for Blu-ray and HD DVD content. It will enable PC gamers to own the "definitive gaming platform," which, according to Ujesh Desai, general manager of desktop GPUs at Nvidia, is "built around the fastest components available today."
"The graphics industry evolves extremely quickly, and it is quite an achievement when you can leapfrog your own performance milestones in succession like we have done with these GeForce 8 Series GPUs," Desai remarked.
Greater Performance?
The only difference between the 8800 GTS 320 Mb and 640 Mb versions is the amount of memory on the cards, which likely won't affect their performance, said Michael Cai, director of broadband and gaming with Parks Associates.
"However, only Nvidia offers graphics cards that support DX10," Cai told TechNewsWorld.
GeForce 8 Series GPUs are the first DirectX 10 GPUs shipping and are the reference GPUs for Microsoft DirectX 10 API (application programming interface) development, according to the company.
DirectX 10 Titles
In fact, GeForce 8800 GPUs are considered the developer's platform of choice for the top DirectX 10 titles, which include "Lost Planet: Extreme Condition"; "Crysis, Age of Conan"; "Hellgate: London"; "Company of Heroes: Opposing Fronts"; "World in Conflict"; "BioShock"; "PT Boats"; and "Cryostasis."
Developers creating next-generation OpenGL titles, such as "Enemy Territory: Quake Wars," are also using the GeForce 8 Series as their development platform.
Alienware and Dell are set to offer the Nvidia GeForce 8800 Ultra graphics cards on high-performance Alienware Area 51, Alienware Aurora and Dell XPS gaming desktops.
GeForce 8800 Ultra will launch worldwide on May 15 and will cost around US$829.