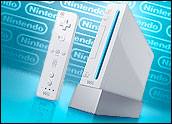 Nintendo Wii owners will be able to do battle against each other online for the first time beginning in June, after partnering with a company that specializes in multiplayer gaming technology.
Nintendo says it has partnered with GameSpy, a division of Fox Interactive Media, to provide Wii gamers online play functions.
Limited Number of Titles
Although none of Nintendo's existing titles will support Internet play, the company says it expects to release new titles throughout the year, starting with two games ready to go with online multiplayer capabilities.
The new technology will allow Wii players to choose their competition based on skill level or from a "friends" lists, as well as game leader boards, according to the company.
The GameSpy technology also allows players of Nintendo's DS handheld games console to play against each other online.
"This partnership will expand our wireless community of players on Nintendo Wi-Fi Connection," Nintendo President Reggie Fils-Aime said.
Alone in the Living Room
Taking the Wii online is a big move for the company in "demonstrating the viability of creating new user experiences," said Michael Gartenberg, an analyst with JupiterResearch.
"Being able to play against someone online is very attractive," he told TechNewsWorld. "You don't have to worry about finding someone in the living room to play."
Competitive Natures
So far, Nintendo's online offerings aren't as comprehensive as rivals Microsoft's Xbox 360 and Sony's PlayStation 3, Gartenberg noted. However, the Wii is designed to appeal more toward mainstream consumers as opposed to hardcore gamers. The Wii does not support voice or video chat.
Nintendo will move quickly to make more of its top titles available online, he predicted, although not all games lend to the multiplayer experience.
"Pokemon Battle Revolution," the first Wii game scheduled for release using the online technology, will launch on June 25.
Sony is also ramping up its online capabilities with addition to of PlayStation 3's 3D virtual world called "Playstation Home." The online component, announced last week, allows considerable interaction between PlayStation 3 owners who will also be able to share audio and video content.