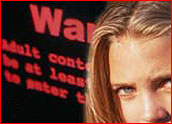 As social networking sites such as MySpace continue to gain traction among today's youth, two new studies about online predators offer varying perspectives on the controversial issue.
First, the results of a national survey of 1,500 young Internet users conducted by University of New Hampshire researchers for the National Center for Missing & Exploited Children (NCMEC) offers both bad news and good news for those concerned about Internet safety.
The bad news: Youngsters between the ages of 10 and 17 are experiencing increasing exposure to unwanted pornography, online harassment and cyber-bullying. The good news: They are also experiencing less sexual solicitation.
A separate survey conducted by i-Safe, however, shows a staggering number of kids are using other technology means, in addition to their computers, to meet and interact with strangers, opening the door to increased opportunities for cyber predators.
Increased Usage, Increased Incidents
The NCMEC survey reports a pronounced increase in exposure among Internet users aged 10-17 to unwanted pornography. Fully one-third of respondents noted this increase in 2005 compared to 25 percent in the 1999-2000 study.
The study attributed this rise in part to aggressive tactics by pornography marketers, and the increased speed and capacity of computers and Internet connections to transmit images.
There was also an increase in online harassment, which rose to 9 percent, compared to 6 percent in the earlier survey. Study authors said this was consistent with growing indicators of online incivility among youth.
More Cautious Behavior
At the same time, however, the NCMEC study found youth receiving fewer unwanted, online sexual solicitations: Only one in seven respondents reported such solicitations in 2005, compared to one in five youngsters in 1999-2000.
The report attributes this to more cautious behavior by young people, fewer of whom went to chat rooms or interacted online with people they did not know. The study authors think educational messages and media stories about the dangers of online encounters have had some benefit.
However, the most serious kinds of sexual solicitations, those in which solicitors attempted to make offline contact with youth, did not decline. According to study authors, this suggests the most determined solicitors have not been deterred and that more targeted prevention efforts may be necessary to reach some young people.
Better Prevention
Much of the unwanted pornography young people saw was very graphic, respondents indicated. Most saw images of people engaged in sexual acts, sexual deviance or violence.
The study concluded that more should be done to promote the reporting of offensive behavior and content. Unwanted sexual solicitations, pornography and harassment were rarely reported to Internet service providers or any other authority.
"Internet providers and host sites need to do more to protect youth from unwanted pornography. They need better filtering and blocking, and more and easier ways for youth to report problems," said Janis Wolak, one of the authors of the study.
Mobile Predators
Meanwhile, the i-Safe survey found an alarming number of young Internet users whose behaviors leave them vulnerable to online predators. Twenty percent of the 13,000 middle school and high school students questioned in the survey admit that they have met face to face with someone they first encountered on the Internet.
Twenty-seven percent of students know someone their own age who has made friends on the Internet with someone much older — more than five years older — and 7 percent of students have been asked by their own online "friends" to keep their relationship a secret, a recognized online predator tactic.
"We recognize computers aren't the only place for teens to join social networking sites," said i-Safe president and CEO Teri Schroeder. "Mobile phones and PDAs give access to these sites and provide Internet predators another way to reach youth. Our goal is to provide the education and tools to keep children from falling victim to this Internet crime."
No Harm, No Foul
Bad publicity is not keeping users or advertisers from leveraging social networking sites, according to Scott Allen, co-author of The Virtual Handshake: Opening Doors and Closing Deals Online.
"The threat of online predators is not enough to have a serious impact on the use of these sites," Allen told TechNewsWorld. "After some of the actions MySpace took to remove objectionable content, it has inked big deals now with Google and Disney and other top brands."
Allen sees a movement to make social networking safer, rather than altogether discouraging it, by counteracting online predators with education.
"There's been lots of attention called to online predators through the media — and that's good," Allen observed. "But there are so many other ways people can get information about kids, such as obtaining someone's yearbook or a school directory, or just hanging around the playgrounds and parking lots of schools. Kids need to be educated about this."