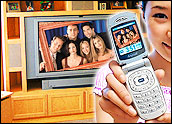 Online video is eating into the market share of traditional television viewing time, according to a recent ICM survey conducted for theBBC.
Forty-three percent of users who viewed video on theInternet or via mobile device at least once a week said they spent less time watching traditional TV as a result. Three-quarters of those surveyed said they now watch more online and mobile TV than they did a year ago.
Online video watchers remain a minority — only 9 percent of those surveyed reported using these alternative viewing methods regularly. Another 10 percent, however, said they expected to start watching videos online or on a mobile device in 2007.
A Threat to TV?
YouTube is credited with opening the door of opportunity to more Internet video viewing. Cell phone carriers are also experimenting with mobile TV, and content providers such as ESPN are obliging them. In addition, Apple's iTunes is growing its library of content for its Video iPods.
No doubt, the one-two punch of Internet and mobile video is gaining momentum. However, Yankee Group analyst Mike Goodman reported that viewers continue to watch one or two hours of mobile video a week compared to four hours of traditional TV viewing each night.
"Television is not going away anytime soon. What does change is how we watch television. The true revolution is not necessarily in broadband-delivered versus service provider-delivered video content. It is linear programming versus on-demand programming," Goodman told TechNewsWorld.
A Grain of British Salt
The BBC survey is not indicative of worldwide trends, as British audiences have fewer online TV viewing options than those in the U.S. Whereas American networks such as ABC stream hit shows online, British networks are just beginning to offer content for Internet viewing.
In the near future, the BBC, ITV and Channel 4 will distribute most of their shows on demand over the Internet. The on-demand aspect, as Goodman noted, is bound to make the greatest impact in the future.
As in the U.S., these British networks can count on younger populations to usher in the on-demand trend. Twenty-eight percent of those surveyed said they watched online and mobile video more than once each week. That number declined to 10 percent for the 25 to 44 age group, and to just 4 percent for those over 45.
The Business Models
The television industry's business model is safe whether the world goes online or mobile, or stays tuned from their living room, Goodman said.
"On-demand video services still protect the original business model, because Comcast and ABC.com and iTunes all get the content after the programming airs on a linear channel," he explained. "It protects the existing revenue stream while creating new ones."