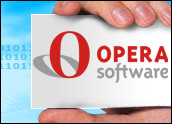 Opera Software on Tuesday released Opera 9, its newest Web browser. The browser is freely available in more than 25 languages for Windows, Mac, Linux and other platforms.
Opera 9 attempts to improve the way its users access, share and use online content by including widgets — small and useful Web programs — and support for BitTorrent, the popular file distribution technology. Opera vows it has maintained the security and speed of previous versions despite the added improvements.
"For Opera 9, we worked hard to push the limits of what people expect from a Web browser, with increased speed, new Web standards support and innovative features such as widgets and BitTorrent," said Jon S. von Tetzchner, CEO, Opera Software. "Even though we shaped this browser for the Web's future, we have the powerful features people want and need for their surfing today. I truly feel Opera 9 has something for everyone."
Web Productivity and Security
Opera is known in the browser industry for its innovation in terms of improving productivity and security. Opera was the first to introduce tabbed browsing, for example, and is the first to launch widgets in the browser.
"Opera is innovating, and it isn't a company that just popped up yesterday. It has been around for a long time. Opera survived the browser wars, though bruised like a lot of other combatants. But Opera is still standing," JupiterResearch analyst Joe Wilcox told LinuxInsider.
Opera 9 lets users add their favorite search engines to the search bar and incorporates functions like saved sessions, the trash can (to get those closed tabs back), notes and the ability to start exactly where you last closed Opera.
Opera 9 also features a security bar designed to prevent scams like phishing and has an improved pop-up blocker to weed out annoying or potentially malicious pop-ups.
Personalized Browsing
With personalized browsing in mind, Opera 9 lets users change the look and feel of the browser by downloading new skins or altering buttons to suit the way they want to use Opera. Opera 9 even lets users improve how individual sites behave or block advertisements on a site-by-site basis.
Widgets are also new to Opera 9. These are small applications that bring a variety of Web content and data to the desktop. Users can play games, get organized, check the weather, follow their favorite sports teams and more.
"It will be interesting to see how Opera tries to monetize widgets, which is certainly possible through affiliate marketing and search engine marketing," Wilcox noted. Opera is known for monetizing the browser. The company used to charge a US$39 licensing fee, but released a free, ad-supported version in 2002.
What's Up With Microsoft?
Monetized browser or not, Opera has a long way to go to catch up with Microsoft Internet Explorer, or even Firefox. The browser has not enjoyed the same measure of success in the U.S. as it has in Europe. The company is launching a U.S. marketing campaign for its latest innovation.
With Opera moving in the Web 2.0 direction, though, Microsoft is likely keeping a close eye on the Norwegian company's U.S. moves. The addition of widgets and BitTorrent puts Opera in a position to tap into the Internet as a computing platform serving Web applications to send users.
"Up until now, if you look at Microsoft's approach, the operating system is a collection of a lot of programs," Wilcox said. "With Windows XP being on the market for so long without any updates, we've seen developers jumping in to extend the capability through the Web browser and through widgets. So do you buy Windows Vista? Or do you just keep Windows XP and populate it with widgets to get the stuff that you want?"
Microsoft is hoping for the former, but with Vista delay after Vista delay, companies like Opera are finding the opportunity to invade the software giant's territory with innovative tools of their own.