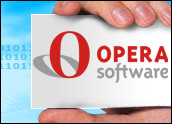 Opera Software is going smaller in order to get bigger.
The Norwegian browser maker on Tuesday announced the worldwide release of Opera Mini, a full Web browser that runs on a wide variety of mobile phones, including low- and mid-end handsets.
"With Opera Mini most people can start surfing the Web with the mobile phone they have today," said Jon S. von Tetzchner, CEO, Opera Software. "We are proud to be the first to offer full, mobile Web browsing to the majority of the world's mobile phone users."
Big Breakthrough
The global launch follows the trials of Opera Mini in Scandinavia and in Germany during the fall of 2005. Those trials helped Opera pick up a user base of more than 1 million people.
"Opera Mini allows full HTML browsing even on devices that aren't smartphones," Jupiter Research Analyst Michael Gartenberg told TechNewsWorld. "That brings the mobile browsing experience all the way down to the most standard feature handsets. That's pretty big."
Opera Mini also has some big features. It compresses Web pages by up to 80 percent and reformats them using its trademarked Small-Screen Rendering for browsing on small, mobile screens.
For the end-user, Opera said this means faster browsing and dramatically reduced phone bills for those who pay per kilobyte in data traffic.
Opera Mini's start page features a Google search box for quick access to Web search and a customizable bookmark list of the user's favorite sites.
Opera-Branded Handsets?
Opera is now offering customized versions of Opera Mini to mobile phone operators, handset manufacturers and other companies interested in offering a branded, full mobile Web browser to their customers.
A pre-installed branded browser would be far more attractive to consumers, according to analysts, and handset manufacturers are not always the best browser software writers.
"The branding option certainly does give a nice value-add to the device and could easily be branded by handset vendors and carriers pointing towards carrier sites and partner sites for revenue streams," Gartenberg said.
Acquisition Talk
Rumors swirled around the industry last year about a possible Microsoft or Google acquisition of Opera. The browser maker denied the rumor, but anything is possible with deep-pocket technology players vying for a competitive advantage.
"If someone were to buy Opera, there's no doubt that this Mini technology and the company's experience in mobile as well as alternative platforms would be very much a draw," Gartenberg said. "As more people are looking to mobile to increase revenues for things like paid search, the Operatechnology would be very appealing to those efforts."
Opera's browser technologies also target the desktop, PDA, home media and vertical markets. The Norwegian company has won industry partnerships with the likes of IBM, Sony, Motorola, Adobe, Macromedia, Symbian, Sony Ericsson and Kyocera.
In part, that's because Opera's browser technology is cross-platform and modular. It is available for Windows, Windows Mobile, Linux, Mac OS, Symbian OS and several other operating systems.
Free Mobile Browsing
Opera Mini is available free of charge via Wireless Application Protocol (WAP) download, or for a small fee via SMS. Opera Mini requires that the phone supports Java.
Opera Mini is available in English, German, Spanish, French, Russian, Polish, Norwegian, Swedish, Danish and Finnish. The company said additional languages would soon be available.