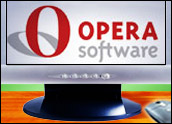 Opera Software CEO Jon S. von Tetzchner said he would swim from Norway to the United States if one million copies of the company's latest browser were downloaded within four days of the April 19 launch.
Start looking along the shorelines. After reaching 600,000 downloads in the first 48 hours, Opera 8 has exceeded expectations with 1,050,000 downloads as of April 23 at 10 a.m. Eastern Daylight Time.
"I want to thank each and every one of the one million plus people who have downloaded Opera 8 over the last days," said Tetzchner. "I am proud to say that this is the most successful browser launch in the 10-year history of Opera."
For the sake of comparison, Firefox's free 1.0 browser reportedly saw more than 1,000,000 downloads within 24 hours of its release at the end of last year.
Speed, Security, Simplicity
Opera 8 was launched with a marketing promise of "Speed, Security, Simplicity."
Jupiter Research analyst Joe Wilcox said it's difficult to say whether or not the clever marketing campaign made the difference. But it's clear that the distance from Norway to the U.S. is a "wee bit of a swim."
"Assuming that he's not really swimming, then the tracking is akin to following Santa's journey on Christmas Eve," Wilcox said of the ongoing marketing scheme that promises to follow Tetzchner, who has admitted his vow was based more on enthusiasm than intent, on his aqueous journey.
Marketing, Downloading, Swimming?
As Tetzchner attempts to make good on his courageous promise, Opera executives have learned much about how to stir a marketing buzz around a new product. The company has also learned the importance of server capacity: The public's massive response to its campaign had Opera's download servers kneeling an hour after the launch.
"A lot of people had great difficulties downloading Opera 8 on Tuesday because the traffic on the servers was simply too high," said Carsten Fischer, vice president of the Desktop division at Opera. "When download numbers reached 120 per second one hour after the release, our servers had serious problems dealing with all the requests. We had prepared for heavy traffic, but this exceeded our wildest dreams."
At US$39 a download, Opera certainly has reason to celebrate — if all of the downloads were paid downloads.
"For Opera, the situation is different than Mozilla because Opera is trying to directly monetize the browser," Wilcox said. "So the number of downloads is just one consideration. The difference between the paid versus the free downloads, I suppose, is the difference between the CEO sinking and swimming."