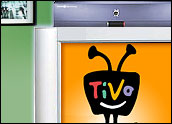 In a move to compete with rival Sling Media in the place-shifting market, Orb Networks on Thursday announced a new software product that allows TiVo users to access content anywhere and everywhere.
Dubbed DVR Everywhere, the application allows TiVo Series 2 DVR users to play and program their television recordings for free anywhere in the world from a wide range of networked devices — including work PCs, WiFi-enabled laptops around the home, and mobile phones on any carrier network.
"A lot of times, my TiVo DVR records my favorite TV shows while I'm at the office or flying to another country," said Ian McCarthy, vice president of product marketing for Orb Networks. "Now I have options for enjoying them whenever I want. I can play them at work, stream them to my Nokia phone on Cingular here in the U.S., or remotely initiate a TiVoToGo transfer to my laptop's TiVo Desktop to watch them on the flight back from Japan."
Free for All
No special software or fees are needed to use DVR Everywhere from mobile phones or PDAs. Users are able to play and program their television recordings right from their devices' native Web browsers and streaming Windows Media Players, RealPlayers, or 3GP players.
Orb's DVR Everywhere add-on utilizes the publicly available Orb Add-ons API, released last summer under the open source Mozilla Public License. This API enables developers to make a wide variety of programs and content available from almost all Web-enabled devices through the Orb interface.
What's in it for Orb?
Orb was originally a paid service. Subscribers shelled out US$10 a month to tap into the Web-based platform. Now, Orb is subsidized by deals with content providers and consumer electronics companies. Orb figures its strategic partnerships will not only make the free business model possible, but will also expand its ability to offer a wide variety of content.
The company has since formed alliances with Sprint, which offers the Sprint Personal Media Link(SM) powered by Orb. Orb also has agreements with Hawk Electronics, a licensed wireless provider for Cingular and Ozone, a wireless broadband provider in Paris, France.
Orb is even moving into the Chinese market through a partnership with Inventec Besta, a brand linking Chinese communities worldwide. Tens of millions of users will have a native-language version of Orb. Most recently, Orb rolled out a free Web voice messages called V45 that enables users to send messages to any e-mail or Skype contact.
The Wow Factor
Orb and Sling Media offer products that you have to see to appreciate, according to JupiterResearch analyst Joe Wilcox. Similar to the TiVo service, he said merely describing the technology to friends doesn't tell the whole story.
"You can tell your friends about watching the shows you have recorded at home anywhere, but when they see it they have the same reaction they had to TiVo — they want it," Wilcox told TechNewsWorld. "With technologies like these marketing gets you so far, but experiencing them leads you to ask 'where do I pay?'"