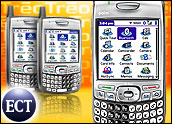 Palm took the wraps off its first entry-level smartphone at the DigitalLife trade show in New York on Thursday.
The Treo 680's design aims to broaden the appeal of feature-rich smartphones beyond business clients to attract everyday users who like to listen to music, take pictures and surf the Web. The new Treo is Palm's fourth new product launch this year.
The Treo 680 will be available via 20 or more carriers around the world by the end of the company's fiscal year, June 1, 2007, Palm said.
Calling New Audiences
Palm has named expanding global market share among its priorities — a goal that may be easier to accomplish with devices that work anywhere in the world. Its Treo 680 is a GSM quad-band world phone. Users can install a SIM card prepaid in a country's local currency and use the same telephone number in foreign nations as they would in their home region.
However, the Treo 680 isn't necessarily targeting world travelers. Palm hopes it will interest those who are ready to upgrade from a feature phone to a smartphone and who may want to experience a mobile phone that is also a mobile computer. Users can surf the Web, send and receive e-mail and input data with a QWERTY keyboard.
E-mail is often described as the "killer app" for smartphone users. Palm believes that Web browsing on the go is the next killer app — perhaps even more important to a growing population of feature-phone users who increasingly expect more from their mobile phones.
Getting Smarter
Smartphones are indeed getting smarter — and more consumer-friendly. The Treo 680 goes beyond business software to include entertainment-based features like picture and video software, camera and video recording capabilities and Pocket Tunes software for MP3 listeners. The handset also enables streaming audio, Internet radio and podcasts.
"There's ample evidence to support the notion that a consumer-oriented Palm is potentially a bit overdue," John Jackson, an analyst with M:Metrics, told TechNewsWorld. "The smartphone segment has gotten all the press in the world and it's still not a significant component of the overall market. Part of the reason is that it hasn't made that crossover into either mass market price points or mass market-friendly form factors."
RIM's success with the BlackBerry 7100 and the anticipated success of its BlackBerry Pearl are further evidence supporting Jackson's view that the smartphone is finally making the transition to the consumer market. He also pointed to Motorola's Q, which is largely targeted at the retail consumer over the enterprise IT manager and has a price point to support mass market adoption, as a prime example of the smartphone's expanding market.
"You are going to see competition intensify in this area, whether it's the Pearl, maybe a GSM version of the Q, or more Palm iterations," Jackson noted.
"There's certainly lots more to expect from Symbian/Nokia in this area," he added. "I would point to Nokia's e-series as a good case in point."
Partnering for Profits
Smartphone makers are also partnering with media companies like Yahoo and SixApart to bring content to the handset.
Palm's latest ally is Google. Palm announced this week that it will deliver Google's interactive mapping experience on its Treo smartphones. The application offers directions, local search, moveable/scalable maps, location satellite imagery and on-the-go traffic updates. Google Maps for mobile is optimized for Treo and is available for free.