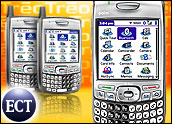 Palm on Thursday announced it is teaming up with Vodafone and Microsoft in hopes of expanding the adoption of wireless push e-mail in Europe.
The UK, Germany, Spain, Italy and the Netherlands will have first dibs on the collaborative Palm Treo smartphone, which will operate on Vodafone's 3G/UMTS network and use Microsoft's Windows Mobile operating system. The phone is expected to be available before the end of the calendar year.
"Partnering with Vodafone, a world-class mobile operator, is a significant step to accelerate our geographic expansion and serve more European customers," said John Hartnett, Palm senior vice president of worldwide sales and customer relations. "This collaboration will provide a powerful tool for enterprise customers that delivers on the Palm promise of ease of use and lets mobile professionals be fully productive away from the office."
Pushing Mobile E-Mail
Today, only an estimated 2 percent of business e-mail inboxes worldwide are accessed via mobile devices, according to market research firm The Radicati Group. Palm, Vodafone and Microsoft will target this large, untapped market with real-time push e-mail using Microsoft's Messaging and Security Feature Pack available on Windows Mobile 5.0, which includes Direct Push Technology and enhanced security features.
"Two percent?" Burton Group Senior Analyst Mike Disabato asked TechNewsWorld. "Maybe two percent of companies are officially supporting mobile e-mail through their IT departments, but I bet there's a lot more users than that doing it on the sly. People know how to forward their business e-mail to their BlackBerry account."
He added, "We won't even talk about the security issues."
Small Business Appeal
Neither Disabato nor JP Morgan analyst Paul Coster seems overly confident in Windows-based Treos.
Coster said in a research note that so far the Windows-based Treos have received mixed reviews in the consumer market. Palm OS-based Treos have received more positive reviews. Coster also noted that corporate IT departments are largely still evaluating the Windows-based Treos.
"We remain skeptical that the current configuration of Microsoft push e-mail will map well to corporate IT requirements (when compared to BlackBerry/GoodLink benchmarks)," he wrote. "However, the solution is likely to appeal to the SMB market."
Low Blows
Disabato was more direct, pointing out that nobody does mobile e-mail better than BlackBerry and calling the Windows Mobile user interface "abysmal."
"It took me a week to figure out how to delete a record off my calendar. There's nothing in the manual. There's nothing in the help screen," Disabato remarked.
Microsoft's Two Cents
Still, Microsoft is confident that the new Treo based on Windows Mobile will offer a unique experience for mobile business users in Europe and will be an attractive proposition for organizations considering mobile deployments.
"The combination of powerful and familiar software, a fantastic user experience and world-class service through one of the leading mobile network operators in the world is a winning formula for businesses and organizations in Europe," said Suzan DelBene, corporate vice president of marketing for the mobile and embedded devices division at Microsoft.