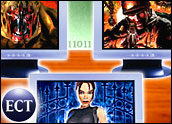 Parents are becoming more restrictive when it comes to regulating the video games their children play, according to a recent study commissioned by theEntertainment Software Rating Board (ESRB).
Sixty percent of parents with children under the age of 17 never allow their kids to play M-rated titles, the study found, while 34 percent sometimes permit their youngsters to play those games.
The "M," or "Mature," label means content in a game is not considered appropriate for people younger than 17.
"Awareness and use of the ratings is clearly continuing to rise to considerably high levels, still showing steady growth from where they were just a few years ago," Jay Campbell ofPeter D. Hart Research Associates, the firm that conducted the study, told TechNewsWorld.
Growing Awareness
Ninety-one percent of parents take a game's rating into consideration when deciding to purchase a game, the study showed, with 52 percent of respondents calling it a "very important" component of the purchase decision, and another 17 percent saying it is the "most important" factor.
Seventy-three percent of parents said they make a point of checking the ESRB's rating every time they consider either a game rental or a purchase.
"It's just more evidence of a vastly increased "awareness rating" for parents in the U.S., said Campbell.
Parents Taking Control
This suggests that parents are becoming more assertive in using the ratings to set and enforce restrictions with respect to the games they allow their children to play.
"What is quite telling is that the number of parents who say they 'never' allow their children to play M-rated games rose, as those who 'sometimes' do declined," Campbell said.
Important Rating
The ESRB, a nonprofit, self-regulatory body established in 1994 by the Entertainment Software Association (ESA), called the results "extremely encouraging" and noted that the vast majority of parents today are involved and informed when it comes to choosing which games are appropriate for their families.
"The ratings continue to be a very important — if not the most important — tool to help parents make an informed decision, and it's clear that parents are using and relying on them in growing numbers," said ESRB President Patricia Vance.