Pebble on Monday unveiled new hardware and software designs, along with a wearable tech appstore. The Pebble smartwatch got its start last year with a successful Kickstarter campaign that resulted in sales of more than 300,000 devices worldwide.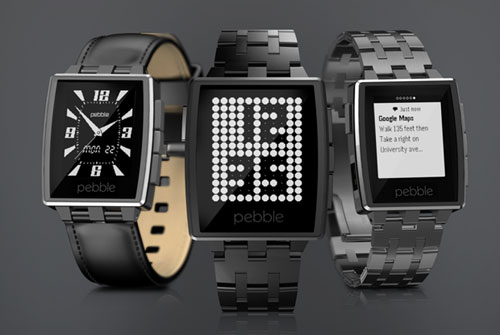 The company is kicking off 2014 with new products: Pebble Steel, an updated version of its smartwatch, plus new software and the appstore, all announced at CES in Las Vegas.
The Pebble Steel sports many of the same features as the original Pebble. It has a water-resistant case, the ability to sync with Android and iOS, and weeklong battery life. The Steel has a sleeker look, with a case made of stainless steel rather than plastic. Its display is protected by Corning Gorilla Glass. It has an LED light to display battery charge.
The new hardware comes at a steeper price: US$249, which is $100 more than the first Pebble smartwatch. That includes the watch — in either a stainless or black matte finish — and two bands, one leather and one metal.
Users can pre-order now through Pebble's online store; the device is expected to ship Jan. 28.
Apps in One Place
Pebble's new appstore is meant to be a one-stop shop. Users already have downloaded about 3 million apps and watchfaces from third-party sources including MyPebbleFaces, the company said, but the new Pebble appstore is the first open platform optimized for finding, downloading and managing wearable tech apps.
Pebble plans to curate the store and make it easy to discover a variety of useful apps: wearable tech including fitness trackers; notification systems for sports scores; or remotes to control TVs, for instance.
Android and iOS smartphone users will be able to download Pebble apps straight from their devices. The store will be available by the end of January, said Pebble.
New Era for Wearables
Pebble is just one of many companies hoping that 2014 can usher in a new era for mainstream wearable technology, with smartwatches being a good place to start, said Jeff Kagan, tech analyst and consultant.
"Smartwatches are an interesting category," he told TechNewsWorld. "It will start in one segment of the consumer marketplace. Those customers get to be cutting-edge, even though they paid more and have to deal with products that — while cool — don't work as well as they will in the next few years."
Currently, the strongest market for wearables is with fitness-related activity trackers such as the Nike+ FuelBand or the Fitbit Flex, said Ross Rubin, principal analyst at Reticle Research.
"The updated version of the Pebble watch has essentially the same functionality of those fitness trackers, but a metallic casing and band as well as Corning Gorilla Glass for better durability," he told TechNewsWorld.
"As a result, it costs more and will likely not sell as well as the lower-priced product and is still rather bulky. However, it could expand Pebble's popularity among consumers who considered the plastic original to look too toy-like or fragile," Rubin said.
That focus on looks in addition to functionality could help Pebble as the smartwatch market matures, Rubin noted.
"It's important to remember that for all the focus on what smartwatches can do, there is still a large emphasis on looks and materials," he explained. "Even smartwatches count as fashion accessories."