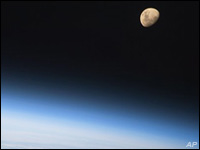 Pocket Spacecraft is offering ordinary people the opportunity to personalize and track their own tiny spacecrafts on a journey to the moon.
Pocket Spacecraft is hoping to raise Pounds 290,000 (about US$440,000) via its Kickstarter campaign to finance a mission that would send small polyimide discs called "Scouts" aboard a larger spacecraft, the Interplanetary CubeSat mothership, into space. Each disc is equipped with solar cells, a metal hoop that acts as an antenna, and sensors and instruments that adhere to its surface to keep it thin and light.
Some of the Scouts will make the initial journey aboard a commercial rocket and then be released into space to flutter back to Earth. The Interplanetary CubeSat mothership will head to the moon, where it will release and photograph the remaining Scouts.
The journey each Scout takes depends on the monetary amount pledged from its Kickstarter backer. The chance to share a Scout with about 50 others starts at about $30. Those donors can have their profile pictures printed onto a scout that will fly to space and return to Earth.
A pledge of about $150 entitles investors to an individual scout that will be transported to space and released to Earth. Donors at that level will have the opportunity to go online and personalize the appearance of the disc by adding a picture or other designs. They can also add a custom message that will be transmitted in space just as the Scout is photographed and released into the atmosphere.
The opportunity for both an individual Earth Scout and a Lunar Scout starts at about $300. Lunar Scouts will be transported to the moon and released there.
For about $605, pledgers will be able to load their own software onto the spacecraft if they'd like, as well as earn access to the online Scout system that will be tracking the journey.
By mid-day Tuesday, Pocket Spacecraft had raised about Pounds 10,898 (about $16,531). The project has another 54 days to reach its monetary goal.
Connecting Earth and Space
The initiative is part of a larger goal to help the average person connect to space exploration programs, said Michael Johnson, founder of Pocket Spacecraft.
"It was the realization that given the dramatic advances in technology and rocket launch opportunities, private individuals could fly their own spacecraft in space at a reasonable price if they could be made small and light enough, and that this could also make some science experiments that were previously too expensive possible. So it was a win-win," Johnson told TechNewsWorld.
The opportunity to send a message to the moon is part of that initiative, but it isn't simply a way to incentivize investors, said Johnson. Adding a personal touch to the initiative can be an effective way to boost overall interest in space research, especially among younger generations.
"Giving children around the world the opportunity to hands-on design and fly spacecraft that they created themselves and keep track with their own Pocket Mission Control software could dramatically change how space exploration is perceived and done," he pointed out.
Boosting Exploration Interest
In an era when the technological advances in space exploration are making huge strides but federal funding for programs is declining, increasing excitement is an especially important goal, Johnson added. It's becoming easier to drum up that interest via social media or through Kickstarter campaigns to make even the moon more accessible to the average citizen.
"We've had the space age where participation was limited to the relatively few," he noted. "Now we have the personal space age open to everyone, which should open up the same possibilities for experimentation and innovation as when the first personal computers started to exist alongside the mainframes."
It's great that private backers are working on initiatives that could help usher in a new era of space exploration, said James R. Webb, Ph.D., professor of physics and director of the SARA Observatory at Florida International University. Projects like Pocket Spacecraft show that even with federal budget restraints, private companies and citizens are willing to spend on space-related initiatives.
However, that money might be more valuable if it were used to support missions that could do more to advance research in the field, he suggested, or even if it were spent on lobbying efforts to persuade Congress to put a national focus on space exploration.
"It doesn't seem to me that just sending a wafer thin disc that will report back its location and progress, but not really do anything else is a huge waste of time, effort and resources," Webb told TechNewsWorld. "People are very willing to settle for a video-game-like experience rather than support real exploration and science."