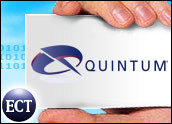 Internet telephony, or Voice over Internet Protocol, is well beyond the "what's that" phase, but not yet into the mainstream phase.
Companies like Skype and Vonage have raised awareness of this next-generation telephone option, but only a relative handful of enterprises have adopted the technology.
Growing Market
Still, that relative handful is bound to grow into buckets. The Internet Protocol (IP) PBX market is showing signs of strength, growing faster than the conventional PBX market. In fact, according to Insight Research, VoIP is the bright spot in an otherwise hard-pressed telephony market. Dell'Oro Group forecasts IP PBX shipments will reach 28 million lines by the end of this year.
Companies like Quintum are hoping to carve out a niche for VoIP solutions that provide analog and digital interfaces. The company is helping companies push VoIP solutions to remote locations to get even more value out of the newfangled technology.
TechNewsWorld caught up with Quintum CTO Tim Thornton to discuss the benefits, challenges, misconceptions and mistakes surrounding remote VoIP deployment in the enterprise today.
TechNewsWorld: What are the benefits of SMEs (small to mid-sized enterprises) deploying VoIP to their remote offices?
Tim Thornton:
Internet telephony offers an array of benefits to the small to mid-sized enterprise. There is an economic benefit where the business can consolidate phone service, manage a single system and easily administer add/drop/moves.
There is also a productivity element where the SME can have access to features and functions previously only available in high-end telephony equipment. The SME can expand simply by adding IP phones. Internet telephony is becoming more integrated in business applications bringing productivity gains to the business processes.
TNW: What are the most common misconceptions about deploying VoIP to remote offices and what is the truth of the matter?
Thornton:
Deploying Internet telephony is not just putting IP phones in the branch offices. There are many issues that need to be considered:
Is my network capable of supporting these multimedia applications?
How do I migrate my legacy equipment like faxes, elevator phones, etc?
What type of local PSTN presence do I need?
What is the emergency service plan for this office?
How do I keep my business running if the IP network fails?
TNW: What is involved in deploying VoIP to remote offices, practically speaking? What does it take in terms of time and money investments?
Thornton:
Planning and understanding the issues will help in successfully deploying Internet telephony solutions.
TNW: What are the common challenges SMEs face during this process and how can they overcome them?
Thornton:
The challenges are not much different than other technologies. Creating an implementation plan that addresses the issues before deployment is the key to success.
TNW: What are the biggest mistakes SMEs make in this process and how can they avoid them?
Thornton:
Other than failing to develop a comprehensive implementation plan, the issues most commonly overlooked are network assessment. Can my network handle the added bandwidth? Does my network support QoS? How will my service provider handle voice traffic? Circuit connectivity?
SMEs still need to keep a local presence for incoming calls and emergency services. Legacy equipment, such as faxes, credit card readers and elevator phones, are among the many devices that still need to be supported. There are many challenges in fax and modem over IP that need to be thoroughly tested.