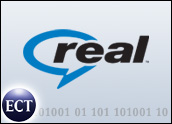 NTT DoCoMo, Japan's largest mobile operator, is the latest in the industry to jump on the fast-moving streaming video bandwagon.
DoCoMo said on Friday it has signed a Memorandum of Understanding (MOU) with Real Networks to jointly deploy software to bring video streaming capabilities to its mobile phones. DoCoMo will add the software to its V-Live streaming video service.
The new and improved V-Live would foster an open environment to allow content providers to use their own multi-format, cross-platform Helix Mobile servers to stream video content over the Internet to FOMA handsets. NTT DoCoMo's 3G FOMA network is only available to subscribers in Japan.
High Expectations
Both DoCoMo and Real have high expectations for the partnership. By introducing new streaming capabilities, the companies said they believe content providers will be encouraged to offer video streaming services for mobile subscribers.
If the duo's plan pans out as expected, the companies said it could lead to a virtuous circle of increasing supply and demand for mobile TV.
For starters, DoCoMo and Real expect to support the expansion of the mobile video streaming market in Japan through their relationship. DoCoMo boasts more than 50 million customers and is looking to expand its global reach beyond Europe, North America and Asia with strategic alliances with other mobile and multimedia service providers.
Plenty of Competition
DoCoMo may have multiplied millions of customers, but it also has plenty of industry competition. Earlier this week, Virgin, Microsoft and British Telecom announced a partnership to launch Europe's first nationwide digital television broadcast service for mobile phones.
That was preceded by the formation of the Mobile DTV Alliance, an initiative founded in late January by Motorola, Nokia and Intel, among others, to support Digital Video Broadcasting — Handheld (DVB-H), an open procedure standard for broadcast digital-TV reception on mobile devices.
Just weeks prior to these announcements, Qualcomm conducted a live demonstration of its mobile TV FLO Technology with Samsung Electronics. Cingular, Verizon and Starz have also recently announced mobile TV-oriented initiatives.
Standing Out From the Pack
The question is no longer one of consumer adoption. Analysts agree that consumers will gradually migrate to wireless streaming video. The question, rather, is how carriers will stand out from the competitive pack.
There are two ways, according to Weston Henderek, senior analyst of wireless services at Current Analysis: content and how that content is delivered.
"It's not the content alone that's going to make the service popular for the carrier, it's how the carrier packages these services," Henderek told TechNewsWorld.
On the delivery side, there are two models. The first is live TV that allows customers to dial up content as it is being broadcast. The second is offering clips of pre-screened content, from news segments to sports highlights to parts of popular programming, like sneak peaks of last week's "Lost" episode.
"On-demand will drive the market because people only have a limited time to watch programming on wireless phones," Henderek said. "They are not going to want to stare at the screen for extended periods of time because it is small and it is a strain on the eyes. People will want good content menus where they can choose what they watch when they want to watch it."