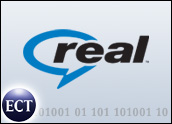 In a bid for mobile business customers, RealNetworks this week unveiled its next generation Helix Server.
The Helix Server Unlimited is Real's enterprise solution for delivering streaming experience to wired, and now, wireless devices. The new version supports 3GPP technology. That allows enterprise customers to stream mobile content to a variety of handsets and other wireless devices.
"Real has built a strong foundation of delivering innovative mobile technology and services, and we're very excited to be extending our advanced mobile capability to our enterprise customers," said John Giamatteo, executive vice president of Worldwide Business Products and International Operations for RealNetworks.
"The latest version of the Helix server delivers a high-quality, rich mobile streaming experience for our partners to stay on the cutting edge of the converging multimedia market."
Real Enterprise
The Helix Server Unlimited is a multi-format, cross-platform enterprise streaming device that delivers RealAudio, RealVideo, Windows Media, QuickTime, Mpeg-4 and 3GPP from a single server infrastructure.
RealNetworks said the server fits within existing operating system environments and supports Windows, Solaris, Linux and Unix-based operating systems for streaming. New features include support for SNMP v3 and next generation protocols such as IPv6, as well as improved firewall support and Helix Rate Adaptation for better utilization of network resources.
Yankee Group analyst Gene Signorini told TechNewsWorld that the Helix Server makes good sense because it is an extension of what the company is already doing. RealNetworks already offers consumer streaming media to wireless devices.
"Any company that's involved in a fixed computing environment, whether you are in streaming media or new applications, has to start thinking about extending its services out to wireless and mobile devices," Signorini said. "As computing increasingly goes mobile, your services have to go mobile to follow that opportunity."
Test Driving Helix
RealNetworks said the mobile application is currently being implemented by several of of its enterprise customers, including the City of Seattle and Virginia Tech.
The City of Seattle has been streaming its television programming to the desktop for over eight years and is now expanding it to the handset. Virginia Tech plans to stream a variety of content to student's multimedia handsets that can be used in formal and informal learning experiences.
"Real is providing a valuable and convenient tool, and we're very excited about the possibilities of a mobile offering to our faculty and students," said Glenda Scales, Associate Dean of Distance Learning and Computing, Virginia Tech. "Delivering video and audio to wireless devices will give our students increased flexibility with accessing learning or informational materials anywhere, anytime."
Consumers Still Bottom Line
Signorini said the bottom line is the Helix Server is still a consumer-oriented play. The difference is that the company delivering the content is not a media company or a carrier — it's an enterprise. Signorini said enterprise customers are increasingly interested in using mobile devices to access material.
"Could streaming information out to mobile workers be attractive to enterprises?" Signorini asked. "Maybe. It will probably be part of the mix. Delivery of streaming content over mobile devices is in some cases more user friendly than the delivery of other types of content."