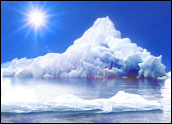 Former U.S. Vice President Al Gore's timing couldn't be better.
The National Academy of Sciences Thursday reported that it's been 2,000 years since the Earth has had as high a temperature as it has right now. The news is giving Gore's New York Times bestselling book, An Inconvenient Truth a convenient boost.
In a broad review of scientific work requested by Congress, the National Academy of Sciences has reached the conclusion that "recent warmth is unprecedented for at least the last 400 years and potentially the last several millennia."
Top climate scientists blame human activities for much of the recent warming in a 155-page report that reveals the average global surface temperatures in the Northern Hemisphere rose about 1 degree during the 20th century.
"This is sort of cherry-picking a time period, since 400 years ago we were in the midst of a widely acknowledged little ice age when temperatures were, for reasons entirely due to natural factors, more than 1 degree cooler than at present," H. Sterling Burnett, Ph.D., a senior fellow at the National Center for Policy Analysis, told TechNewsWorld.
Scientific Consensus
Rep. Sherwood Boehlert, R-N.Y., chairman of the House Science Committee, requested the report last November to address global warming skeptics. With the evidence in, Boehlert said, "there is nothing in this report that should raise any doubts about the broad scientific consensus on global climate change."
The National Academy of Sciences' conclusion is backed up by another recent report. New research released Thursday by the Commerce Department's National Center for Atmospheric Research showed that global warming produced about half the extra hurricane-fueled warmth in the North Atlantic in 2005. Natural cycles were only a minor factor.
When Burnett began working on the issue years ago, scientists and advocates argued that the 20th century was the warmest in the last 20,000 years. Two years later, they argued that it was the warmest in the past 10,000 years, he noted.
"Geologically — and even from a human history perspective — 400 years is a blip on the timescale, and historically warmer periods have been periods of thriving civilizations as opposed to cooler periods — when agriculture collapsed, life spans fell, etc.," Burnett explained. "So, basically, the study confirms that if it has warmed, humans have probably caused some of it — but we can't say how much."
The Debate Continues
With ammunition available to both sides, the debate about global warming is hardly settled. There are scientists who support the findings and others who see flaws in them. Neither group can completely prove its case. Perhaps no single study could.
"The pros and cons of computer models, causes and consequences of warming, what we can and should do even if humans are the cause of present warming would have all remained open to debate regardless of the findings of this study," Burnett said.
Even if one agrees that humans are the cause of the present warming cycle, Burnett believes wisdom cries out for solutions to adapt to the current situation rather than efforts to figure out how to prevent future warming.
"Warming will, at worst, only exacerbate problems that the world already faces — and we can confront those problems directly, with much more effectiveness and at much less cost, than [would be incurred] by trying to constrain greenhouse gas emissions," Burnett concluded.