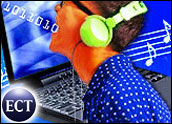 It's the recording industry's dream — or at the very least, it's not another nightmare.
Illegal music file-sharing is being kept in check, with the number of legal tracks downloaded internationally tripling in the first half of 2005, according to new figures released by the International Federation of Phonographic Industries (IFPI) last week.
IFPI data reveal that illegal music files rose slightly (3 percent) from 870 million in January to 900 million in June. In the first six months of 2005 legal music downloads in the United States, the United Kingdom, Germany and France outstripped the 2004 total.
Specifically, single track downloads in these markets rose to 180 million in the first half of 2005 compared to 157 million for all of last year. The IFPI concluded that the "legitimate" market is responding to that demand, with over 300 digital sites now available worldwide — that's three times the number from a year ago.
"We are now seeing real evidence that people are increasingly put off by illegal file-sharing and turning to legal ways of enjoying music online," said IFPI Chairman and CEO John Kennedy. "Whether it's the fear of getting caught breaking the law, or the realization that many networks could damage your home PC, attitudes are changing, and that is good news for the whole music industry."
Impact of Record Industry Lawsuits
Additional data suggest there has been a clear shift of consumer attitudes in response to recent, well-publicized legal actions against file-sharers in 11 countries. More than one in three file-sharers surveyed in the U.S. and the UK cite "fear of legal action" as the main reason for stopping illegal file-sharing, according to Jupiter's UK Music Consumer Survey.
Still, Kennedy said the problem is far from solved. Despite public warnings, information campaigns and the increased likelihood of legal action against violators, he said many users persist in turning to illegal music sites.
"They are ordinary men and women in ordinary occupations — doctors, students, teachers, cooks, nurses and even a judge," Kennedy said. "But they are having to learn the hard way that the price for file-sharing illegally can be as a high as a fine of several thousand euros."
The Digital Holy Grail?
Subscriptions to digital services are up sharply so far in 2005, according to IFPI, with a total of 2.2 million people now subscribed to music services globally. This is up from 1.5 million subscriptions estimated in the group's Digital Music Report in January.
Big Champagne CEO Eric Garland told TechNewsWorld that the industry is keeping a close eye on subscription services, which could represent the golden goose for recording labels that have lost millions to illegal file-sharing.
"Ultimately, we have to bridge the gap. Subscriptions look like a winning model," he said. "But consumers in our focus groups said that although they welcome subscription models, they will not stop downloading free MP3s. So they are willing to pay for music, bu they still consider swapping files an important part of the equation."
In other words, illegal file sharing may be on the downslope, but it doesn't appear to be vanishing completely, at least not any time soon.