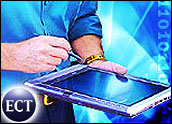 Three years after tablet PCs made their way to market, shipments are markedly increasing and the next few years will show multibillion-dollar growth, according to research firm In-Stat.
Referring to PCs that run Microsoft's Windows XP Tablet PC Edition operating system, tablet PC shipments have yet to reach the lofty heights that some backers predicted upon launch. However, In-Stat expects the worldwide market to rise from US$1.2 billion in 2004 to $5.4 billion in 2009.
Brian O'Rourke, In-Stat senior analyst and author of "Tablet PC 2005: Increasing Shipments Amid a Cloudy Future," told TechNewsWorld that broad horizontal corporate markets should start to make an impact on the market in 2005, as average selling prices fall well below $2,000.
"I expect prices to come down fairly significantly in 2005 as these larger form factor tablets become more predominant in the market," he said. "Those lower prices will certainly help to encourage tablet PC sales because the price delta between notebooks and tablet PC will shrink."
Breaking Down the Market
O'Rourke's report found that vertical markets, such as healthcare, real estate, insurance and sales force automation, continued to be a driving factor in 2004 tablet PC shipments.
Acer, Fujitsu, HP, Motion Computing and Toshiba were among the leaders in 2004 tablet PC shipments.
In-Stat analysts said availability of an integrated next-generation tablet PC operating system in Microsoft's Longhorn operating system would have a significant impact on tablet PC sales.
Overcoming the Obstacles
Doubtless, breaking into the broader corporate market has been a challenge for tablet PC vendors. Corporate users are more accustomed to using desktops, or notebooks if they need mobility. Then there's the IT spending factor.
"Tablet PCs offer different functionality. It has a handwriting option, it's light and it's highly mobile," O'Rourke said. "But convincing corporations that tablet PCs are better than notebooks or even notepads has been a challenge, particularly in a low corporate spending environment."
Vendors like Toshiba, Gateway and Acer are manufacturing tablet PCs with 14-inch screens to leverage economies of scale. Typical tablet PCs of 12 to 18 months ago had 10- to 12-inch screens. But 14-inch screens are more common in the notebook PC space and therefore less expensive.
The Microsoft Factor
Microsoft's recently announced Ultra Mobile 2007 portable PC form factor could also have a significant negative impact of future tablet PC shipments if the software giant's support of tablets wanes.
"Microsoft has been the primary backer of tablet PCs. But the Ultra Mobile 2007 portable PC form factor is supposed to be a highly portable PC about the size of a paperback book," O'Rourke said. "If they decide to support the Ultra Mobile strongly, it makes for some uncertainty for the future of tablet PCs."