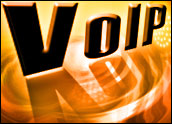 Enterprises are driving the adoption of Voice over Internet Protocol (VoIP) security solutions, according to new research from the In-Stat group.
The report, "Trends and Spending Plans for Security Appliances: Are We Ready for VoIP?," covers the impact of VoIP in the security appliance market, and concluded that while VoIP can add many desirable new features to business telecom systems, vendors and customers face difficult security challenges to realize these benefits.
As a result, more than 75 percent of the companies that have implemented VoIP plan to replace their security appliances within the next year, the high-tech market research firm says. The security appliance market is poised for strong growth over the next few years, and will reach US$7 billion by 2009, In-Stat forecasts.
VoIP Security Vendors Add Functionality
"Traditional firewall technologies can complicate several aspects of VoIP, most notably dynamic port trafficking and Network Address Translation (NAT) transversal," says Victoria Fodale, In-Stat analyst. "Security product vendors are adding functions that address voice applications in their products, but, as history has shown, security typically lags behind advances in technology."
According to In-Stat, larger and mid-sized companies show a higher percentage of concerns about VoIP security than companies of other sizes.
Moreover, budgets allocated for new security appliances are significantly higher in companies that have already implemented VoIP, and reliability is by far the most important criteria for the purchase of new security appliance products by businesses.
Differing Viewpoints
But Irwin Lazar, senior analyst at The Burton Group, told TechNewsWorld that he has not witnessed market conditions that resemble what In-Stat is describing. In-Stat's report that 75 percent of companies that have implemented VoIP plan to replace their security appliances within the next year is optimistic, he said.
"Maybe at some point when VoIP networks are extended beyond enterprise boundaries we'll see that type of uptake in security solutions, but for now most enterprises that are deploying VoIP are deploying closed systems," Lazar said. "They aren't very concerned about things like Internet-based attacks because there isn't any Internet access to the IP system."
Lazar said he has seen a few companies attempt to penetrate the VoIP market with security monitoring systems or VoIP firewalls, but reports little to no traction in the enterprise so far.
Ahead of the Curve
Most enterprises are still in pilot mode or gradually rolling out VoIP solutions. Enterprise VoIP spending was up 46 percent last year, according to Infonetics Research. The firm predicts 29 percent of large, 16 percent of medium, and 4 percent of small enterprises in North America will have adopted VoIP by the end of 2005.
Security, one of the last remaining challenges, is now being addressed by industry vendors and researchers that have banded together to form the VoIP Security Alliance.
The alliance is entrenched in defining security requirements for Internet telephony networks. Analysts said the outcome could be a significant boon for the industry — but not for a few more years.
"Companies that are selling VoIP security solutions at this point are probably either a little ahead of the market or they are trying to drum up some fear to sell their products because Internet-based attacks aren't something enterprises need to worry about at this point in time," Lazar said.