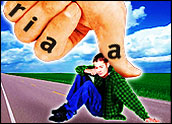 The Recording Industry Association of America (RIAA) is claiming victory over illegal file swapping. The vehement opposer of sites like BitTorrent and eDonkey reported this week that it now considers illegal file trading "contained."
Legal digital downloads are up 77 percent, the RIAA said. Album sales, meanwhile, are down about 3 percent. While the RIAA and others once blamed illegal file sharing for the losses, the association now concedes that the increase in digital downloads makes up for sagging CD sales.
The RIAA has aggressively filed lawsuits against what it views illegal file sharing practices for several years, including high profile suits against Kazaa and, more recently, XM Satellite Radio. It has sued more than 18,000 people for sharing songs online — 4,500 settled for about US$4,000 each.
The Changing Landscape
The RIAA reigned victorious over Kazaa last November when a court ordered the service to block 3,000 keywords, including songs from popular artists like Madonna and Eminem. Other services, like Grokster, WinMX and BearShare, have quietly disappeared from the file sharing landscape in the wake of increased RIAA litigation.
On the other hand, the once controversial Napster has legitimized itself and media powerhouses like Apple's iTunes are proving that music lovers are willing to pay for digital downloads. In fact, iTunes boasts over 1 billion songs downloaded. Another service, Rhapsody, is also gaining traction in the market.
The RIAA would undoubtedly like to take credit for the changing landscape, but some analysts believe the shift toward legal sites is a natural evolution of the market as much as it is a response to RIAA lawsuits. Providing a legitimate alternative with sites like iTunes reduced the incentive for piracy.
"There is no such thing as a free lunch. The peer-to-peer sites haven't gone out of business, but the consumer has discovered that using them is more trouble than it is worth because they are loaded with adware, spyware and potentially viruses," Inside Digital Media Senior Analyst Phil Leigh told TechNewsWorld.
The Sheer Numbers
The number of Internet users tapping into file-sharing networks continues to rise. NPD shows digital store purchases have nearly doubled thanks to the presence of legitimate services. Nearly 10 million people actively swap files online, according to BigChampagne. That figure is up from 8.7 million last year.
All in all, sales of legally downloaded music brought record companies $1.1 billion in revenues last year, reports the International Federation of Phonographic Industry's (IFPI) Digital Music Report 2006. Like the RIAA, the IFPI has taken aggressive steps throughout Europe to stop digital piracy with lawsuits.
Targeting Satellite Radio
The RIAA may not fare as well in its most recent battle, though. The association has accused XM Satellite Radio of "massive wholesale infringement" in federal court in the Southern District of New York.
The RIAA is targeting XM's latest portable music player, Inno, which allows users to download and store hundreds of copyrighted songs. RIAA representatives did not return calls seeking comment.
While XM does have a license to play the music, the RIAA notes, the portable music player's new capabilities go far beyond what the license allows, causing harm to its own business.
"It was a bad decision for [the] RIAA to go after that particular application," Leigh argued. "It seems to me that this kind of activity is in fact legal under the Audio Home Recording Act of 1992. Secondly, it doesn't appear that type of activity damages recorded music sales."