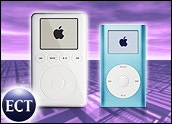 Apple just might be preparing for a coup d'etat in the digital media world, if gossip about new iPod functionality making its way across the Mac grapevine proves to be true.
Apple rumor site ThinkSecret said "highly reliable sources" have revealed that the computer-maker will announce a 60 GB iPod within the next 60 days, just in time for the holiday season. The rumors also suggest that a photography function will be added to the iPod.
Apple could not be reached for comment on the growing buzz. While the rumor is merely hearsay until Apple speaks out, analysts say they don't doubt that the tech giant has something up its sleeve.
"Apple has invested heavily in technology to edit pictures. Not having a portable device to show them seemed an obvious oversight that would be corrected once the price of the displays came down," Rob Enderle, principal analyst with the Enderle Group, told TechNewsWorld.
Next Generation
"I'm not absolutely positive, but it seems incredibly likely we will be able to show AlbumArt and pictures on the next iPod," Enderle said.
Combine Enderle's reasoning with an announcement by Toshiba's Storage Device Division in August and an iPod with photo capability seems more and more likely. Toshiba plans to introduce a family of 1.8-inch hard disk drives that feature improved shock tolerance, power consumption and vibration control — just what an iPod would need for photo functionality.
Could the timing trump Virgin's soon-to-be released music player? Enderle said Virgin might compete with Apple on price, and it might even be a little easier to use, but it won't have the functionality of an iPod. iPod seems secure in its leading position in the consumer market, he said.
A Piper Jaffray survey of about 600 teenagers in eight states illustrates Apple's dominance in the digital audio player market. More than 15 percent currently own an iPod and 24 percent plan to buy an iPod within the next year.
Survey Results
Looking at portable digital audio players overall, the survey shows 32 percent of students are looking to purchase a portable digital audio player within 12 months, and of those 32 percent, 75 percent expect that they will buy an iPod, versus an alternative player.
There have also been rumors about Apple adding video to the iPod. Enderledoesn't expect that any time soon, but anything can happen.
"We may see more robust video if Apple sees Microsoft's portable Media Centers as a threat, but that may take a while," he said. "In the meantime, I think Apple will focus on making the iPod as small as possible and bringing functions like pictures and AlbumArt to its smaller sizes."