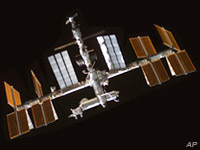 Two Russian cosmonauts on Friday began a spacewalk outside the International Space Station to install camera equipment from UrtheCast, which soon could provide near real-time streaming images to viewers on Earth.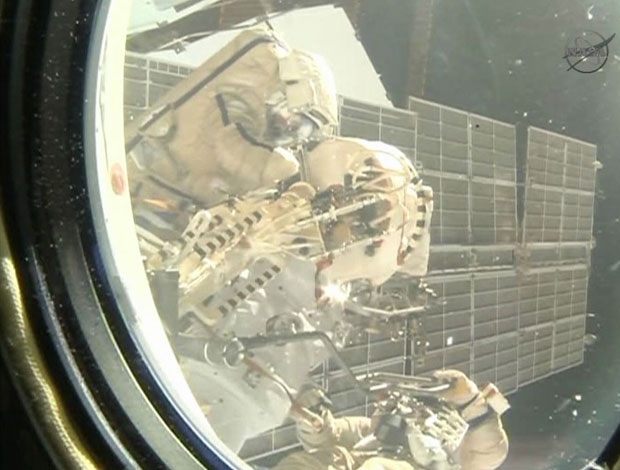 A camera inside the International Space Station captured this view of spacewalkers Oleg Kotov (upper left) and Sergey Ryazanskiy (lower right). (Image Credit: NASA TV)
Canada-based UrtheCast partnered with the Russian Federal Space Agency to launch two cameras, one high- and one medium-resolution, into space last month.
Russian cosmonauts Oleg Kotov and Sergey Ryazanskiy will install the equipment in their spacewalk, which is expected to take about 7 hours.
Real-Time Streaming
The two cameras will require a calibration period, but UrtheCast expects free color, HD images of Earth to begin streaming in early 2014.
The cameras are powerful enough to allow viewers to see buildings, moving vehicles or large groups of people, but far enough away so that distinguishable information such as a license plate number will be unidentifiable.
UrtheCast is attempting to make the images as close to real time as possible, with the cameras being able to record, downlink and stream online within one to four hours.
In addition to providing free footage from across the world to anyone with an Internet connection, UrtheCast will sell information to data clients that want to use specific images for research, or provide information for disaster relief efforts.
The UrtheCast spacewalk is not related to the two other spacewalks during the past week, in which two NASA astronauts ventured outside the ISS to replace a faulty cooling pump.
Playing It Safe
For the Russian cosmonauts installing the new equipment, safety is a key priority — although these are people who are used to being in relatively dangerous settings on a daily basis, said Jonathan Lunine, director of the Center for Radiophysics and Space Research at Cornell University.
"Most people would be surprised by the number of such activities that occur outside the ISS," he told TechNewsWorld, "but any such activity carries with it intrinsic dangers."
The cosmonauts wouldn't be putting themselves at risk if it weren't worth it, though, said James R. Webb, professor of physics and director of the SARA Observatory at Florida International University.
"It is totally worth the effort and expense," Webb told TechNewsWorld. "It is a great public relations move for the space station."
Stunning New Views
New images captured from space are important for reminding Earthbound humans of all that is going on beyond the limits of their vision, said Lunine.
"It is great for anyone to be able to see streaming video of our home planet whenever we wish," he noted. "It was 45 years ago that the Apollo 8 Earthrise picture seared into our minds the fact that we live on a small planet in a very large and mostly empty cosmos. Many people at the time were very moved by the image. Being able to call up Earth whenever we want is, well, cool."
That captured moment — commemorated in LIFE 100 Photographs That Changed the World — is still making its impression back on Earth. Christmas Eve marked the 45th anniversary of the day the Apollo 8 crew took the first color photograph of Earth from lunar orbit. To mark the occasion, NASA released a new visualization last week that showed how the crew was able to capture the image.
A lot has changed in regard to public and political support for manned space flight in the past 45 years, though, Webb noted. As stunning as some of the new images might be, it's unlikely that they'll be able to create a lasting effect on space exploration policy in the U.S.
"The Earth camera is a great idea, and I look forward to logging in and seeing it," he added. "However, this project does not require new advanced technology and is not promoting advanced exploration. If the close approach of asteroids and the melting polar caps can't jolt us into a different mindset, I don't think the beauty of Earth from above will do it — but I hope it does!"