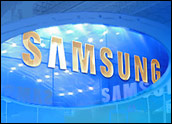 Samsung's new Galaxy Note Android phone, which will feature one of the largest screens on a smartphone to date, will hit shelves on Feb.19.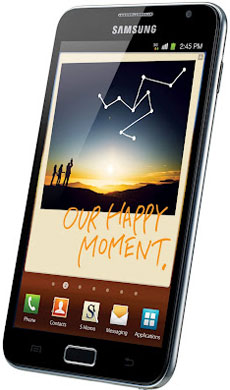 The Samsung Galaxy Note
With a 5.3-inch screen as well as a stylus, the Galaxy Note is billed as a hybrid tablet and smartphone device.
The screen will be one of the largest currently available on a smartphone, and early reviews of the handset from this year's CES indicated the 1,280 by 800 touchscreen showed clear and vivid images.
For users looking to take advantage of the large screen for note-taking, the phone comes with a stylus, which Samsung is calling an "S-Pen." The S-Pen will be able to convert handwritten notes to standard text.
The smartphone will also come equipped with 4G LTE access on AT&T's network. The Galaxy Note is set to hit shelves on Feb. 19, running for US$300 with a two-year contract.
Samsung didn't respond to our requests for comment.
Closer to Tablet
With the enlarged screen, the device is targeted toward users looking to condense their device usage into a single product, according to Samsung.
The large screen allows more room for certain interactive features more commonly found on tablets. Users can use a finger or the S-Pen to write a note or e-mail, sketch a drawing, annotate websites or even write in freehand the words they'd like to send in a text message. With the Galaxy Note, Samsung is advertising a multimedia app called "S Memo" that would then convert those scribbles, drawings or notes into a memo that the user can share or save.
As the functions of smartphones change, smartphone vendors are hoping to hit the next big target audience, and Samsung seems to be trying to hit a few with the Note.
"Given what we are seeing in the larger-screen smartphones, bigger screens are creating new usage paradigms such as sharing video. The ability to bring a Moleskin-style note-taking experience to a smartphone form factor could also be a winner," said Feland.
It's a move toward the multiple functionality that the consumer device market keeps calling for, but the larger screen probably won't appeal to everyone, especially those looking for a phone that's easy to lug around on the go. Early reviews suggest the product would take more than a little getting used to.
Based on an in-person assessment at CES, the form factor was "large to hold in one hand and take notes with the other hand," John Feland, CEO and founder of Argus Insights, told TechNewsWorld. "The other hiccup was that the stylus only works on the screen, not the touch buttons that control key Android functions. As such, users have to orchestrate a complex juggling dance to hold the tablet, switch the grip on the pen and then hit the button."
Still, there seems to be a growing population of smartphone users looking for a product that's functional on dual levels.
"We've seen a growing market for larger touchscreen phones, so I think there's definitely demand for some tablet-like functionality in a smartphone. The Galaxy Note is probably too big for most users, especially those who want a device they can keep in the front pocket of their jeans, but it's manageable for those who carry their phones in a briefcase, purse or maybe even a coat pocket," Colin Gibbs, analyst at GigaOM Pro, told TechNewsWorld.
Sticker Shock
The Galaxy Note will sell for $300 with a new contract, a price point that's not uncommon for some of the newest smartphone models, especially those with 4G LTE capabilities and some of the unique features the Note will offer.
However, that price will likely also turn some users away.
"The hefty price tag will limit sales of the Galaxy Note in a big way. Three hundred dollars is reasonable, but I don't think many consumers will plunk down that kind of money in addition to the required two-year contract — not when they can get an entry-level iPhone 4S for less," said Gibbs.
For that kind of money and a new contract, users looking for a smartphone that's closer to a tablet might just spring for the tablet itself, or pick something that's a more conveniet size.
"By combining phone with annotation, the Note has a better chance of becoming a sticky note that makes phone calls," said Feland.