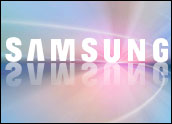 Samsung Electronics is putting the finishing touches on an 8-gigabyte chip — a high-density embedded flash memory device capable of storing up to 2,000 songs on a mobile phone.
The South Korea-based company expects to begin mass producing the line of flash memory and firmware chips, called "moviNAND," by the end of the year.
Embedded Power
Samsung's moviNAND line combines flash memory and firmware in an embedded chip for mobile phones and other portable devices.
The new bulked-up chips incorporate the MMC (multimedia card) interface, enabling manufacturers to develop mobile phones quickly and at less cost than with raw MLC NAND components often soldered into handset, according to Samsung.
The moviNAND is the highest-capacity embedded flash memory device for mobile electronics ever released on the market, the company claims.
Fast Processing
The moviNAND card, which is around 10 to 20 percent smaller than other flash-based embedded memory cards, processes data at speeds up to 52 MB per second — double the performance of the current 4 GB chip, Samsung said.
The new flash memory chips are not only small and fast, but also energy-efficient, the company notes. Besides in cell phones, they can be used in memory sticks, multimedia players and other mobile devices.
The new chip solution provides high-density, high-speed, low-noise interference and increased security, making it an attractive storage option for mobile handsets used for such high-content functions as playing music and personal navigation, said Samsung.
Need for Speed
The 8 GB chip may have plenty of practical applications down the road, but right now only a slim minority of users of electronic devices are on the cutting edge in terms of maxed-out capabilities, Daniel Longfield, an analyst with Frost & Sullivan, told TechNewsWorld.
"It is more speed and memory that anyone needs on a device right now," he said. "The number one thing people still want with these devices is communications capability."
However, uses are largely linked to cultural habits, Longfield pointed out, and as mobile video continues to gain traction in the United States, he expects demand for increased memory and speed to jump.
"The needs of enterprise will also play a role," he added, noting that mobile devices are likely to carry a bigger load in the future, as employers continue to demand greater connectivity of their workers.
Securing Data
Increasing industry demand for secure and stable data is also driving greater adoption of embedded data storage solutions, Samsung said.
In addition, the moviNAND chip can be used with removable media cards to permit virtually unlimited memory expansion.
Mobile Manufacturers
Samsung began producing 1 GB and 2 GB moviNAND chips last year, and says worldwide sales of the chips are expected to reach US$4 billion by 2010.
The chips will be made available to major mobile electronics manufacturers.