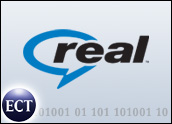 RealNetworks on Monday announced a partnership with SanDisk to deliver a portable music player poised to compete with Apple's market-leading iPod.
Real, a developer of software that plays music and videos on the Internet, and SanDisk, a flash memory maker, are planning a tag-team approach that the companies said will deliver competitive features in the Rhapsody Sansa, a new player based on SanDisk's e200 series of Sansa portable players.
The player will enable easy access to RealNetworks' Rhapsody online music service. The firms' collaboration will lead to personalization features — such as automatic new music updates based on a listener's personal tastes and historic music preferences — that allow listeners to leverage Real's exclusive Rhapsody DNA technology platform.
Early Industry Support
Real executives are calling Rhapsody DNA an innovation that puts the digital jukebox into the listener's pocket. The platform allows device makers to deliver music to consumers through portable, mobile and in-home devices. Real is already garnering record industry support for its new concept, and SanDisk is hoping to ride Real's coattails to MP3 player sales success.
The Rhapsody Sansa will come with nearly 32 hours of pre-loaded music from hundreds of the world's most popular artists, including those on labels from EMI Recorded Music, Sony BMG Music Entertainment, Universal Music Group and Warner Music Group, as well as several leading independent labels.
Mega Capacity
SanDisk's line of high-capicity e200 players includes the 8 GB Sansa e280. That seemed like a large capacity until Apple announced an 80 GB iPod last week that holds up to 20,000 songs. However, Envisioneering Group analyst Richard Doherty noted that most music fans don't own 20,000 songs.
"How often do you wear a US$20,000 watch on your wrist? The music to load up the 80 GB iPod would technically be worth $20,000. I don't think a lot of people actually own that much music," Doherty told TechNewsWorld.
The Rhapsody model, by contrast, allows listeners to pay an annual fee — which works out to about $10 a month — to have unlimited tunes streamed to the player. The cost is lower because the listener doesn't actually own the music.
One-Upping Apple
SanDisk's players have several things the iPod doesn't have — digital FM tuners, FM recording capabilities and voice recording with built-in microphones. Now, with the Real deal, SanDisk also has a platform that takes advantage of Rhapsody's unlimited access model. That's an attractive combination that could expand the pie for MP3 players, with SanDisk as a beneficiary, Doherty said.
RealNetworks currently leads the market for unlimited access music with more than 1.6 million Rhapsody subscribers. That's still a paltry number compared to the volume of music and videos iTunes peddles. Downloads from the iTunes Music Store topped 1 billion in February. However, Doherty said Apple makes only a few pennies per download. The unlimited model may, in fact, be more profitable.
"With Rhapsody, the SanDisk is in many ways more compelling in value and features than the iPod. The SanDisk offers access to all those songs and more just so long as I keep subscribing," Doherty said. "I think I'd walk around with a bodyguard if I had $20,000 worth of music on my iPod."