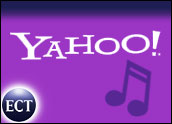 Flash memory maker Sandisk has partnered with Yahoo to help provide music services for its Sansa Connect digital audio player.
Unlike other players in an increasingly crowded music player market, Sansa Connect is a WiFi-enabled portable MP3 player that allows users to listen to LAUNCHcast Internet radio, download music, share music with friends over Yahoo Messenger and view photos from Flickr.
LAUNCHcast and Flickr are both part of the Yahoo network.
Users can refresh content wirelessly at Yahoo Music Unlimited To Go without first linking to a personal computer.
Wireless Music
The device was designed to untether consumers from their computers, and to let users get new music and share recommendations via an open, wireless Internet network, Daniel Schreiber, general manager for SanDisk's Audio Video Business Unit, told TechNewsWorld.
Terms of the agreement between SanDisk and Yahoo were not disclosed.
The new MP3 player, which won this year's Best of CES award in the MP3 player category, can now connect with open WiFi networks and share songs regardless of range, according to SanDisk.
The device comes with a 2.2-inch LCD screen and weighs 15.2 ounces, meaning it is heavier and has a smaller screen than the highest-capacity (80 GB) iPod.
The Sansa Connect also comes with an 8 GB flash hard drive that can be expanded via a microSD memory card.
No. 2 on the Charts
Hoping to differentiate its product from the iPod, SanDisk has garnered a niche market with its Sansa line of digital players, the company said, adding that even though its MP3 players are No. 2 sellers in the U.S., it lags behind Apple's ubiquitous iPod line in popularity.
Apple has sold 100 million iPods since the product's introduction in October 2001, and the devices now claim more than a 70 percent share of the U.S. MP3 player market.
SanDisk has risen to rank second with about a 10 percent slice of the market, according to market researcher NPD Group.
The Competition
Although the WiFi feature is considered its unique selling point, Sansa Connect is not the first MP3 player to support wireless capabilities.
Last year, Microsoft's Zune video console launched with built-in WiFi; however, the Zune uses the wireless capability only for sharing songs with other users nearby. Unlike Sansa Connect, the Zune is not capable of downloading music wirelessly from the Internet.
Sansa Connect is now available in the U.S. for US$250. It will be released in Canada later this year.