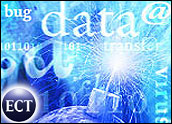 Seagate Technology on Monday took another step into the security arena with a new encrypted hard drive. The company plans to start shipping units to notebook manufacturers in early 2007.
Seagate's goal is to simplify the security and management of private data stored on computing devices, including PCs, notebooks and mobile devices, by protecting data right on the hard drive.
Seagate will deliver the Momentus 5400 FDE.2 (Full Disk Encryption 2), a 2.5-inch drive with hardware-based encryption, next year. The new drive will come in units of 80 GB, 120 GB and 180 GB capacities.
"This is a highly important development since a lot of value has migrated to personal computers, and particularly to mobile personal computers that could potentially be compromised," Roger Kay, Principal Analyst at Endpoint Technologies, told TechNewsWorld. "Hard drive encryption allows consumers to make a lot of progress toward safeguarding data even if they live a highly mobile lifestyle."
The Key
Dubbed "Seagate DriveTrust Technology," the platform combines automated hardware-based security with a programming foundation designed to make it easy to add security-based software applications.
Seagate said users can choose encryption key management, multi-factor user authentication and other capabilities that help lock down digital information stored on the drive. For users, only a password is needed to self-authenticate for full drive access, while third-party enhancements enable thumbprint and smart card options for multi-factor self-authentication.
That ease of use is critical to consumer adoption, according to analysts.
"At some point virtually everything will be encrypted this way," Kay predicted. "The key to widespread adoption is encrypting it with sufficient ease of use so that the user isn't annoyed by the process of authentication."
A Growing Market
Seagate sees a growing market for its hard drive-based encryption on two fronts: consumers and enterprises. On the consumer side of the equation, identity theft is a major adoption driver. The company figures that family photos, video and music downloads, often numbering in the hundreds if not thousands, stored on computers, carry their own inestimable value.
For many organizations, compliance with data security and privacy legislation such as the Gramm-Leach-Bliley Act and the Health Insurance Portability and Accountability Act (HIPAA) has become a priority, making the security of critical digital content — including the secure disposal of electronic files to end the data lifecycle — a fundamental requirement.
"Securing data on the hard drive is an innovative, yet common sense approach that will simplify the deployment and the adoption of security for data at rest," said Charles Kolodgy, research director of security products at IDC.
This is not Seagate's first attempt at pushing DriveTrust into the mainstream. The company already sells DriveTrust-equipped disks on the DB35 Series, which targets digital video recorders.
Microsoft is also in the hard drive encryption game. Some versions of its new Windows Vista operating system will include BitLocker full disk encryption software.