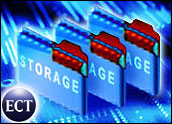 Hard-drive maker Seagate Technology yesterday said it would release a 2.5-inch disc drive with 160 GB capacity in the first quarter of 2006.
The drive is built on perpendicular recording technology, a technology that stands data bits on end on the disc platter rather than flat to the surface as with existing longitudinal recording to achieve new levels of hard drive data density and storage capacity.
TrendFocus analyst John Donovan told TechNewsWorld that perpendicular recording technology is an attractive approach for companies like Seagate, Hitachi and Fujitsu. But Seagate appears to have the edge on first-to-market boasting rights.
"Perpendicular recording technology is the beginning of a new way to manufacture disk drives," Donovan said. "It won't happen overnight, but it will be the way manufacturers approach storage because it's becoming imprudent to do it the conventional way."
Seagate Boasts Capacity
Seagate said its Momentus notebook drives intends to further close the capacity and performance gap between desktop and notebook PC hard drives as more users replace aging desktop systems with fast, high-capacity notebook computers.
"More office and home users want all the capabilities of a desktop PC in a notebook computer — high performance and capacity, stronger security and quiet operation — combined with power efficiency so they can run longer between battery charges," said Brian Dexheimer, Seagate executive vice president of Global Sales and Marketing. "Seagate is meeting all these needs with a comprehensive suite of hard drives built on the most advanced technology platform in the industry."
When hard-drive manufacturers release mega-capacity, critics always ask the same question: Why would anybody need that much storage?
Consumers Demanding More Storage
But analysts said when larger capacity drives hit the market, manufacturers can't seem to produce them fast enough. Consumers fill them up and then want more.
"With the advent of the iPod for music files and digital photography combined with the fact that people are now storing those digital files on notebook PCs, there's no question that people will fill this up," Donovan said. "This announcement will force other manufacturers to push harder to introduce hard drives based on perpendicular recording technology."
Addressing Security Needs
Seagate also announced plans to roll out strong, transparent hardware-based data protection for notebook computers that prevents unauthorized access to data.
The company said robust notebook security is increasingly important as thefts of notebooks with sensitive personal and business information continue to rise, with companies incurring millions of dollars of losses in lost or stolen trade secrets and intellectual property and individuals facing the high cost of identify theft.
"Mobile professionals are turning to notebooks to satisfy both their mobile and office computing needs," said John Buttress, IDC's research manager for hard drives. "They are also demanding stronger, easier to use encryption solutions to protect their sensitive information. Drive manufacturers such as Seagate that can deliver stronger security and higher capacity using technologies such as perpendicular recording will be in the sweet spot of market demand for notebooks."