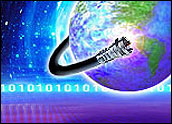 U.S. Senator Ron Wyden (D-Ore.) on Thursday unveiled new legislation that would ensure what he is calling "net neutrality," or equal delivery of content on the Internet for consumers and businesses.
Under Wyden's bill, dubbed the "Internet Nondiscrimination Act of 2006," telephone and cable companies would be prohibited from charging businesses for faster delivery of their content to consumers over the Internet or favoring certain types of content over others.
"Creating a two-tiered system could have a chilling effect on small mom-and-pop businesses that can't afford the priority lane, leaving these smaller businesses no hope of competing against the Wal-Marts of the world," said Wyden. "Neutrality in technology enables small businesses to thrive on theInternet and allows folks to start small and dream big — and that's what I want to protect with this legislation."
Equal Access for All
Specifically, Wyden believes his bill would ensure that telephone and cable companies treat Internet content equally by not interfering with, blocking, degrading, altering, modifying or changing traffic on the Internet. The bill would allow consumers to choose which devices they use to connect.
Finally, the Internet Nondiscrimination Act of 2006 calls for a transparent system in which consumers and Internet content and applications companies have access to the same rates, terms and conditions for Internet service.
"It's wrong to create an information superhighway that's strewn with discriminatory hurdles," Wyden said. "Today, I have introduced legislation to stop the powerful interests who control access to the Internet from picking winners and losers on the Internet. This bill is for consumers, innovators and small businesses. It's all about equal access for everyone: the same access, the same content, for the same price."
Telecom Goliaths vs. Internet Behemoths
Cable operators and telephone companies, including AT&T andVerizon (NYSE: VZ), have been lobbying Congress hoping to prevent legislation like the Internet Nondiscrimination Act of 2006. Internet giants like Google, Yahoo and Microsoft would welcome net neutrality.
For its part, AT&T has no plans to degrade, impair or block access to any legal Web site, application or service, or to hamper the delivery of content from Internet companies, the company said. "At this stage, we are exploring different product models to address the challenges of proliferating applications on the Internet that will require significant network bandwidth, but we feel strongly that this is an issue best left to the marketplac."
Who Is Right?
Do the phone and cable companies have a point for debate in their opposition of net neutrality? This is an important question, and there are no easy answers, according to telecom analyst Jeff Kagan.
The two sides are clear, and neither one separately addresses the entire problem, Kagan said. Young and small companies prefer the Net-neutrality side of the argument; however, the telecom and the cable television companies have to spend billions of dollars each to bring high speed connectivity to the user, he noted.
"We have to come up with a solution that addresses both problems," Kagan told TechNewsWorld. "I don't have an answer, but we see the two sides coming at this from their own corners, and we don't see any middle ground yet."