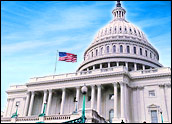 Federal legislation aimed at eliminating loopholes that allow companies like Google and Apple track users using GPS location-based technology was proposed by Senators Al Franken, D-Minn., and Richard Blumenthal, D-Conn., on Wednesday.
If signed into law, the Location Privacy Protection Act of 2011 could force companies to obtain explicit consent from smartphone users before gathering their personal data and would have to notify consumers on how that data is being used.
The bill received support from several organizations, such as the Center for Democracy and Technology, the National Association of Consumer Advocates, and anti-violence groups such as the National Network to End Domestic Violence and the National Center for Victims of Crime.
In May, after a Senate hearing chaired by Franken to investigate tracking policies, the senator wrote a letter to the CEOs of Apple and Google denouncing the lack of privacy settings available in their App Stores. He asked that the stores provide policies that inform users when their information is being collected and who will see it.
"Consumers say they want more privacy. They want more transparency and control about who is getting their information, how it is being used, and who it is being shared with," Franken wrote.
The passage of the bill could change the way companies interact with customers concerning their private information.
"It will make Apple, Google and other companies that collect and utilize location services much more privacy-conscious, so that the collection and use of that data for any purpose requires explicit consumer permission or opt-in to release of their data," Avivah Litan, vice president and analyst at Gartner, told TechNewsWorld.
The bill would require user consent, but it's likely companies wouldn't shy away from asking for that permission to personal info.
"They will also make it patently obvious to consumers how to agree to such consent," said Litan.
Potential Opposition
Supporters of the bill hope consumer dissatisfaction will help push the bill through. It's difficult for consumers who feel their privacy has been invaded to imagine a scenario in which tracking is beneficial, though location data can be useful in nailing down criminals or scam artists.
"Opposition would come from law enforcement agencies, financial institutions who are fighting fraud, and others who rightfully need to track and locate a variety of 'bad actors' using all potential means," said Litan.
Organizations such as the National Center for Victims of Crime, which supports the bill, understand the importance of location-based technology for fighting crime. Many believe, however, the technology poses a threat and that the bill will help put citizens out of danger without restricting law enforcement.
"One of the things about technology is there's always the pros and cons. With location-based technology the challenge is when it's being used against user's will, without their knowledge and consent. So what this bill is doing is closing those loopholes. I don't think law enforcement will be compromised or be unable to do their jobs," Michelle Garcia, director of the Stalking Resource Center at the National Center for Victims of Crime, told TechNewsWorld.
Law enforcement agencies may not even need location-based technology as much as they claim.
"Much of this is also directed towards abusive use of this data by overly zealous law enforcement and government agents, who may not respect consumer privacy rights as much as lawmakers believe they should," said Litan.
The offices of Sens. Blumenthal and Franken did not express a plan to take on opposition and did not speculate on their hopes for the bill's passage. Neither office responded to TechNewsWorld's requests for comment by press time.
Legislation Tries to Keep Up
The bill one of several recently proposed pieced of legislation aimed at increasing mobile privacy as statutes struggle to keep up with rapidly changing technological developments. It's the type of legislation we can expect to see more of in the future.
"I think as technology advances we will have to continue to be aware of how it can be exploited and how we can balance privacy and protections," said Garcia.
For a bill to be successful in enforcement and true security, it must have a solid foundation in privacy principles.
"Hopefully we will only see thoughtful ones that stick to principles and incentives, and stay away from the technical details," said Litan.
Even as privacy and online security become more regulated, perhaps the safest bet is to make sure that consumers are educated and vigilant.
"It's back to the pros and cons of technology — it makes our lives easier in so many different ways, but when challenges or problems arise and the system is being exploited in a way that it was never meant to be used, it requires diligence," said Garcia.