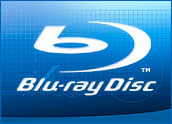 Sharp has introduced a new Blu-ray disc player that is the first such device capable of recording high-definition content directly from television.
The new BD-HP1, a standalone device set to go on sale in Japan next month, allows the transfer of content from the company's Aquos digital tuner or Aquos HD Recorder to the Blu-ray Disc without losing the high-definition quality, according to the company.
However, the connection required to use HD content is only available on Sharp's own Aquos TV range. It is expected to debut in the United States later this spring.
Recording the Future
The player is able to record video directly to BD-RE discs, which can hold up to 25 GB of content — enough for two hours of HD programming, according to Sharp.
The new recorder is just the beginning of the new line of products that Sharp says it is planning to introduce for recording high-definition content.
The new player is expected to retail for approximately US$1,200.
The move by Sharp certainly makes sense for the electronics maker, said Steve Wilson, a principal analyst with ABI Research.
"Now they are really well positioned to provide PVR (personal video recorder) capabilities," he told TechNewsWorld.
Cutting Costs
The new player is also cutting down on costs by utilizing the existing tuner on Sharp televisions to record the HD TV programs, thereby eliminating the cost of adding a separate tuner to the device.
The "hybrid recording" function works with the iLink (IEEE 1394) connections on Sharp Aquos LCD TVs. That factor, however, is what prohibits its use with other TVs.
Battle Lines
The new player with recording capabilities is another salvo in the ongoing format war, according to Wilson.
"There has been a lot of back and forth with new releases by both camps recently," he noted.
The battle has pitted several groups against each other, forcing early adopters to choose between the HD DVD format, backed by a consortium headed by Toshiba, and the Blu-ray format, backed by a group led by Sony.
The recorder may shift the balance to favor the Blu-ray camp for a while, but Wilson expects players to eventually be able to support both formats.
"Neither side is going to back down," he predicted.
Playing Both Sides
There have been plenty of moves toward supporting multiple formats of late. In September of 2006, LG Electronics announced plans to release a next-gen DVD player that could handle both Blu-ray and HD DVD media.
Technology has been developed to go the other way as well.
Warner Bros. has filed a patent application for a disc that can be played on both Blu-ray and HD DVD players.