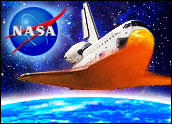 Despite lingering concerns and objections from two top safety officials, the crew of the space shuttle Discovery continued with preparations for Saturday's planned launch. NASA reports a 60 percent chance that weather will delay the mission.
The Discovery crew arrived at Kennedy Space Center in Cape Canaveral, Fla., Tuesday morning. The official NASA countdown began at 5 p.m. EDT on Wednesday. The scheduled launch time is approximately 3:49 p.m. on Saturday.
This mission, designated "STS-121," is NASA's 115th shuttle flight and the 18th U.S. flight to the international space station. Discovery's mission is scheduled to last 12 days and end with a 10:45 a.m. landing at Kennedy on July 13.
Getting Past Tragedy
The seven-member Discovery crew — commander Steve Lindsey, pilot Mark Kelly, and mission specialists Mike Fossum, Thomas Reiter, Piers Sellers, Lisa Nowak and Stephanie Wilson, have prepared for years for STS-121. This will be the first space journey for three of the seven astronauts. The crew plans to test shuttle inspection and repair techniques and will bring supplies and equipment to the ISS. The European Space Agency's Thomas Reiter will also begin a six-month stay on the space station.
NASA was dealt a blow by the Columbia disaster in 2003 and did not launch another space shuttle until Discovery took off last July. Columbia disintegrated during re-entry into the Earth's atmosphere after falling pieces of foam insulation damaged the vessel during its takeoff. Seven astronauts were killed.
Reviewing Safety Concerns
NASA grounded its shuttle fleet after the Columbia tragedy. The space agency has since worked to adjust its foam application process, and it made a number of other safety upgrades before launching Discovery last summer. Despite the fixes, a piece of foam fell off the tank during liftoff, but did no damage to the orbiter.
Earlier this month, the agency's top safety official and its chief engineer said they did not believe the shuttle should launch until more fixes were made to the fuel tank's foam insulation system.
However, NASA Administrator Michael Griffin decided to go ahead with the launch. "We're tracking no issues in our preparation at this point," NASA Test Director Jeff Spaulding said at a countdown status briefing. "Our teams have been working tirelessly during this last year to help make this flight and all shuttle flights as safe as possible for the crews."
Industrial Base
"NASA wouldn't be moving forward if it didn't think it was safe to proceed," Peter Arment, an analyst with JSA Research, told TechNewsWorld. "NASA has a long history of being very thorough. I can't imagine NASA would put any crew or the vehicle itself in any jeopardy if they had any doubts. It's hard to fathom that."
In addition, private industry is dependent on NASA and its space shuttle program for millions of dollars in research and development contracts. Even in the wake of disaster, Arment said, those contracts have continued to be awarded.
"NASA has concerns about maintaining its industrial base and the health of the companies supporting its mission and product," Arment noted. "The [Bush] administration has given it a long-term goal. NASA has engaged the industry in the development of products that will help to achieve that."