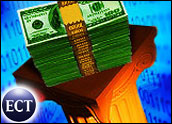 Blogging software and services provider Six Apart on Thursday said it received US$12 million in third round financing.
The round was led by Focus Ventures. Intel Capital and prior round lead August Capital also participated in the funding.
Founded in 2002 by husband-and-wife team Ben and Mena Trott, Six Apart has 15 million users and boasts 30 million visitors to its hosted site per month. Six Apart is the maker of the Movable Type publishing platform, the TypePad hosted blogging service and LiveJournal, an online community organized around personal journals.
"Six Apart is uniquely positioned to capitalize on the tremendous growth in this market," said Steve Bird, co-founder and general partner of Focus Ventures. "The company has global reach, a portfolio of leading brands and a diversified business model. We see extraordinary growth potential for Six Apart and believe it is poised to strengthen its leadership position."
Blogging for Dollars
In the last six months, Six Apart has expanded its product line, diversified its revenue streams, deepened its management team and significantly increased its user base worldwide.
Earlier this month, it announced an initiative to bring specialized tools and services to businesses with TypePad Business Class and Movable Type Enterprise. Business tools are what's needed in the blogging world, according to WhatsNextOnline.com President B.L. Ochman.
"I'm not surprised by the investment. Investors are paying close attention to what the real potential of blog software is. I am surprised Six Apart is not planning to use the money to wrap up the corporate market and work at the enterprise level. Business bloggers need tools that integrate e-commerce into the software."
Business Strategy
As a first delivery on its strategy, Six Apart launched TypePad Business Class, a new service designed specifically to meet the integration, security, control and management needs of enterprises and large organizations.
The company also announced vague details about "increased engineering resources devoted to developing business services, customer education programs and enterprise-level support options," suggesting an effort focused on improving existing and new business software applications and services.
Moveable Blogs
In the interest of diversification, Six Apart also announced the acquisition of SplashBlog, a solution for mobile blogging from cell phones and PDAs, on Monday. This was also attractive to its investors.
"Six Apart has long taken a leading position on mobile blogging," said Barak Berkowitz, Six Apart's chief executive officer. "The addition of the SplashBlog team and the rich mobile blogging technologies they have developed will help assure that our users will continue to have the best user experience and most advanced features available when they blog from mobile devices and cell phones."
Social Blogging
Later this year, Six Apart will launch a new service, code named Comet, which, along with LiveJournal, promises to bring blogging and social networking into the mainstream. More than 15 million people around the world use Six Apart's blogging software and services and over 30 million visit its hosted sites every month.
"Six Apart is focused on the emerging blogging trend around the world," said Mike Dierks, director of strategic investments at Intel Capital. "Their product set ranges from solutions for individuals all the way up to large enterprises and governments and shows great promise for future growth."