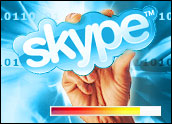 Skype on Wednesday announced license agreements for worldwide distribution rights to potentially hundreds of thousands of musical works as ringtones for its Internet telephony service.
The eBay subsidiary inked deals with three major music publishing companies — EMI Music Publishing, Sony/ATV Music Publishing and Warner/Chappell Music — as well as with the UK's collecting society for author/publisher rights, the MCPS-PRS Alliance, which is a partnership between the Mechanical-Copyright Protection Society and The Performing Right Society.
"Skype's collaboration with publishing powerhouses EMI, Sony/ATV and Warner/Chappell, and with the collecting society the MCPS-PRS Alliance, gives us the foundation we need to offer great content from today's hottest artists to Skype's fast-growing global user base," said Saul Klein, vice president of global marketing for Skype. "The Personalize Skype store is one more way that we are making Internet calling fun."
Dealing for Madonna
The new licenses will allow Skype to lawfully distribute master tones from the roster of current partner Warner Music Group. Samples of music recorded by Warner artists can now be downloaded as ringtones to Skype users in the United States, United Kingdom, Ireland, France, The Netherlands, Belgium and Poland — and, within weeks, to the rest of Skype's more than 94.6 million registered users worldwide.
Madonna is the first artist to headline the "featured artist" section of Personalize Skype. Located at personal.skype.com, Personalize Skype now features ringtones such as "Push" and "Sorry"; the new single from Madonna's latest multi-platinum album, "Confessions on a Dance Floor"; and past Madonna hits such as "Like a Virgin" and "Vogue." Artists to be featured in the future include Depeche Mode, Green Day and Red Hot Chili Peppers.
An Opportunistic Move
The recording industry has seen promising results from initial ringtone sales, according to wireless research firm M:Metrics. In the fourth quarter of 2005, wireless carriers were selling 17.7 million ringtones a month. Slightly less than 10 percent of U.S. wireless customers have purchased additional ringtones.
IDC forecasts that the total volume of ringtone sales will approach the 100 million mark by 2009. By then, four in 10 wireless subscribers and customers will be ringtone purchasers, the firm expects.
"Skype is an attractive venue for merchandising ringtones," Seamus McAteer, co-founder and senior analyst at M:Metrics, told TechNewsWorld. "This wouldn't have been on Skype's road map 18 months ago. Skype was not built from the ground to be a venue for merchandising digital content. This is an opportunistic play to take advantage of the community and find a fairly simple way to monetize that community."
Covering All Its Bases
Skype is covering all its demographic bases. While ringtones appeal mostly to young consumers, its telephony solution is also targeting small businesses. Last month, the company announced Skype for Business to help companies reduce costs. The initiative includes a Skype for Business Web site, new hardware from Plantronics, and a Business Control Panel designed to simplify management of grouped users and pre-paid services.
"We know from listening to our more than 75 million customers that 30 percent of them are regularly using Skype for their businesses and most of these are small companies," said Niklas Zennstrom, Skype CEO and co-founder. Fifty percent of Skype's business customers have fewer than 10 employees, the company said.