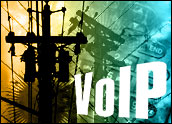 Skype on Wednesday released the beta version of Skype 2.5 and an early preview of live moderated conversations that allow groups of up to 100 people to talk to one another from anywhere in the world.
The Web phone service provider is attempting to take the online social networking concept to Voice over Internet Protocol (VoIP) applications. Skypecasts allow people to discuss shared interests — anything from classic cars and cooking to home design and computer support. Skypecasts are moderated by the "host" who is able to mute, eject or pass the virtual microphone to participants when they wish to speak. Hosting or participating in a Skypecast is free.
"Skype has always focused on making it easy for people to have conversations for as long as they like, anywhere in the world, for free. We want to make Internet calling incredibly straightforward so people can effortlessly stay in touch," said Skype CEO Niklas Zennstrom. "With the latest version of Skype's award-winning software, we've listened to our customers and made it even easier for communities of people to connect and easily talk to each other for free."
Skypecasting Meets Bloggers
Several Skype partners are piloting Skypecasts via their existing communities. Blogging software vendor Six Apart, for instance, plans to promote Skypecasts as a way of expanding its online communities. Bloggers can schedule Skypecasts and link access to them from their sites so that visitors using Skype can click to join discussions instantly without leaving the blog.
"Conversations start in blog communities that turn into friendships and business relationships and rivalries and all sorts of things. This is an exciting development, and I am going to try it immediately," What's Next Online President B.L. Ochman told TechNewsWorld.
She views Skypecasts as a strategic tool in a setting such as the blog she launched this week, EthicsCrisis.com, where folks can confess situations and get feedback from others in the community.
"Active blogs can get so many comments that they have to turn off the comments. This is just a way to get people more involved and increase the reach of social media," Ochman noted.
A Simpler Skype
As part of its new software enhancements, Skype said new customer registration is simplified, and dialing traditional phone numbers is more intuitive. Simple prompts delivered while Skyping allow users to adjust how they manage their Internet connections to get the best possible call quality.
The free software does away with the need for callers to remember specific country codes. Instead, callers just select the country of choice from a drop down menu. Payments are now built into the Skype software to streamline purchases of minutes and recently introduced ringtones.
Skype 2.5 users can now send a one-way SMS message to any mobile phone number in the world by selecting a SkypeOut contact, entering a mobile phone number or selecting a Skype contact's mobile phone number in their profiles.
The Hardware Play
Skype is also making way for hardware vendors with Skype Certified Products, which are meant to extend and add value to the Skype experience.
The Philips VOIP321 DECT cordless dual phone, for instance, enables free Skype calls, as well as ordinary landline calls.
In addition, Polycom and Skype this week announced the Polycom Communicator, a USB speakerphone that leverages Polycom's Acoustic Clarity Technology to deliver high-fidelity, two-way voice communication for Skype conversations, without echoes or feedback.