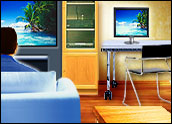 Skype's founders, Janus Friis and Niklas Zennstrom, plan to launch a new Web-based broadband television service next year, according to a Monday report in the Financial Times. The two have invested part of the US$2.6 billion they made from the sale of their Voice over Internet Protocol company to eBay to develop the new service.
Codenamed "the Venice Project," it employs peer-to-peer technology to serve users. Testing currently is underway with 6,000 people participating. The service is expected to launch with TV-oriented content such as documentaries, dramas and music videos. Pay-per-view programming may be added later.
The Venice Project technology displays high-quality, full-screen video on a computer screen and overcomes digital rights management issues because "the bits and bytes being collected on your computer are fragments of a stream," Fredrik de Wahl, the project's chief executive, told the Financial Times.
Track Record for Success
Friis and Zennstrom have what many others who are entering the online video space do not: a track record for success. Unlike YouTube and other user-generated content platforms, the duo's strategy is to deliver quality TV programs for free to broadband Internet connection users.
That may or may not be effective in the current online environment.
"When you employ user-submitted content, sometimes it's easier to build a community because of the viral aspect of it," Tim Deal, senior analyst at Pike and Fisher, told TechNewsWorld. "Sometimes it's shocking. Sometimes it's funny. It creates a huge response around it. It generates that word of mouth and buzz."
The service has reportedly attracted a few well-known channels, but the company would not disclose its content partners. There is some speculation, however, that Warner Music is using the service to create distribution opportunities for some of its artists.
The Venice Project will generate revenue by selling ads.
Future of Video?
"Broadband video certainly represents an opportunity for Skype's founders to generate ad-based revenue around video content," Deal said. "It presents a new distribution method to either established content providers or up-and-coming independent film or television producers. But it has to compete with a well-established, well-entrenched cable media audience."
Although there is a place for video online, the long-term implications of the migration are not clear, he noted. Rather than envisioning a fierce battle between cable and Internet operators with a clear and final winner, he sees a future in which a hybrid model offers consumers the best of both words.
"Time Warner allows users to tailor their digital cable experience and access eBay through their digital cable set-top box. That better represents the future in terms of a hybrid Web and television cable offering that allows for personalization," Deal pointed out.
Ingredients for Success
A strong track record, innovative technology and the online video trend do not guarantee the Skype founders' success with this new venture. Success will mean differentiating the value of the new service from what is already impacting the market.
"Will these guys do something new, different and exciting?" Deal asked. "This needs to be so compelling that there is exclusivity to it, so the only place we can see it is through their medium."