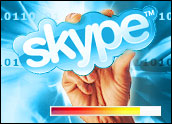 Skype's tagline is "The whole world can talk for free." Now,eBay's Voice over Internet Protocol (VoIP) subsidiary plans to bridge the language gap to boot — but at a price.
Skype on Thursday announced a deal involving language services providerLanguage Line andVoxeo, a provider of standards-based Interactive Voice Responses andVoIP platforms, designed to make it easier for people to communicate with one another regardless of their native languages.
Specifically, the joint solution will translate English into more than 150 languages using personal interpreter services.
"Language Line's 'Personal Interpreter Service' greatly enhances the Skype experience for our growing multilingual customer base," said Saul Klein, vice president of marketing for Skype. "Our consumers can now use the Skype technology to easily communicate in the languages their customers and friends prefer to speak."
Languages Galore
Skype subscribers can now be on the phone in a conversation with up to four other Skype users — a five-way conversation — as well as a live, professional Language Line Services interpreter. Language Line Personal Interpreter is a pay-as-you-go service that provides quick and easy access to skilled interpreters. Among the most commonly requested languages are Arabic, French, German, Japanese, Spanish and Russian.
"Every day, virtually all Fortune 500 multinational corporations, as well as businesses of all sizes around the world, depend on Language Line Services to assist them in communicating with their customers in their own languages," said Louis Provenzano, Language Line Services' senior vice president of sales and marketing. "Now, by using SkypeOut, this inexpensive service is available to individuals and small businesses from anywhere in the world at a moment's notice."
No Free Lunch
Note that Provenzano used the word "inexpensive." Skype isn't exactly letting the whole world talk for free anymore. Language Line Personal Interpreter Services over Skype cost US$2.99 per minute. Interpreter costs are automatically charged to the caller's SkypeOut balance.
"I am skeptical that there is a good fit between Skype's core proposition, which is about cheap communication, and this premium service," Ovum Research analyst Jan Dawson told TechNewsWorld. "It's not the sort of thing that an ordinary consumer is going to use. It's a business service."
Businesses might not find much value in the service, either, Dawson noted. For his part, if he were paying for live translation services he would want a high quality phone connection where he could be sure to hear everything.
"Skype does have quality issues. You get echo, you get delay, you don't always get through," he pointed out.
Forging Ahead
Nonetheless, Skype is forging ahead with its latest innovation. Voxeo gets into the picture to provide an interface between Language Line Services and the Skype Network. Language Line's Personal Interpreter Service uses Voxeo's Prophecy voice platform to automate the process of transferring the call from Skype to Language Line Services.
"Language Line's 'Personal Interpreter Service' demonstrates perfectly the power of VoIP platforms like Prophecy to change the way we communicate with each other, both personally and professionally," said Clegg Ivey, Voxeo's vice president of operations and strategy. "This partnership works so well because Voxeo, Skype and Language Line Services all share one simple goal: to reduce the barriers to global communication."