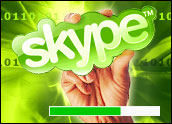 Skype Technologies has begun allowing users to beta test free two-way short text messaging, the company announced yesterday. In addition to already receiving SMS messages for free, Skype users can now also send them via the company's "Skype to SMS" service.
"We launched our 'SMS to Skype' service just three weeks ago and have been very pleased with the positive feedback from Skype users," said Marcus Williamson, managing director of Connectotel, which is providing Skype with the SMS capability. "Now we are adding the next logical progression: 'Skype to SMS.'"
Williamson said in a statement that private beta testers have shown "enormous enthusiasm" for the new service, which uses voice over Internet protocol (VoIP) technologies to send messages back and forth between users.
Up, Up and Away
By closing the message loop, Skype has outdone Yahoo!, AOL and Microsoft, according to Williamson, because these providers allow only the sending of SMS.
Research consultancy Atlantic-ACM predicts the retail VoIP market will grow at a compound annual growth rate of 64 percent through 2009. Analysts believe Skype is poised to cash in on that market with the fee-based services it currently offers.
Indeed, Skype has made some influential friends recently. The company forged an agreement earlier this month to bundle Skype with Xandros' Desktop Operating System and promote low-cost Xandros Linux desktops and laptops with Skype Internet calling.
Skype also aligned with Motorola in a co-marketing collaboration aimed at providing greater connectivity options and access for Skype's more than 25 million registered users worldwide through Motorola "Skype Ready" companion products.
Competing with Juggernauts
Atlantic-ACM VoIP analyst Aaron Nutt told TechNewsWorld that VoIP is heating up on the consumer side, hence Skype's deals with Xandros and Motorola. However, the company is competing with some heavy hitters in the telecom arena.
"There are a lot of big companies getting into VoIP, like AT&T, SBC and Verizon," Nutt said. "Vantage and Cablevision are the clear leaders."
Nutt said that Skype is somewhat of a different animal, though, because it has less of a profit-driven business model. "It's interesting to watch them continue to innovate technologically without necessarily trying to maximize their profit," he said.
Ultimately, Nutt said VoIP is likely to replace the traditional telecommunications infrastructure, and companies like Skype that are building brand awareness today could carve out a solid niche in the market in the future as the big players duke it out for dollars.