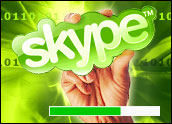 Skype yesterday released the beta version of Skype 2.0 and announced new collaborations with hardware and software providers.
"At Skype we want to make talking over the Internet the most natural, simple thing for people all over the world to do," said Niklas Zennstrom, CEO of Skype. "With the release of our new software, it's never been easier for people to talk to one another for free, and now they can see each other with video as well."
Of course, seeing necessitates a webcam. That's where Logitech comes in. Skype and Logitech plan to jointly market Skype Video and Logitech webcams and headsets worldwide. That means engaging in regional promotions and direct outreach to Logitech customers and the Skype community. Skype will offer select Skype-certified Logitech webcams and headsets for sale through its online store.
Seeing is Believing
Skype 2.0 beta includes a simplified user interface with an intuitive menu and one-click access to key features and options, as well as self-expression functions that allow users to broadcast their mood along with their online presence.
Personalization features give users access to avatars and ring tones. Users can also see their contact's time zones and organize them by groups of friends, co-workers or family members.
A real-time contact search feature looks up contacts in real-time by typing a name into the dialing field. One-click calling to contacts from the user's Microsoft Outlook address book is also included in Skype 2.0.
And if seeing is believing, then perhaps that's why Skype added Skype Video, which allows users to see friends and family on a full computer screen or in the Skype calling window. The company said the service is compatible with almost any webcam, but Skype certified webcams are available from Creative and Logitech.
Generating Revenues
Skype makes Voice over Internet Protocol (VoIP) software that is freely available in 27 languages. The company generates revenue through its premium service offerings, such as making and receiving calls to and from landline and mobile phones, as well as voicemail and call forwarding services.
The company also has a growing network of hardware and software partners, with Logitech, Creative and Six Apart as its newest friends. Logitech said its global relationship with Skype is a natural fit. Logitech has sold more than 25 million webcams worldwide. Skype boasts more than 213 million downloads, which leaves room for millions of webcam sales.
"In a very brief period of time, Skype has brought Internet calling into the mainstream, across the globe," said Junien Labrousse, Logitech senior vice president of the Entertainment and Communications Business Unit. "We're confident that Skype will bring similar momentum to video calling, as consumers will see how useful and easy it can be."
Moving Vlogs into the Mainstream
Skype also forged an alliance with Six Apart to let users of its TypePad personal blogging service integrate Skype presence into their weblogs. Skype users who use TypePad for their blogs, can indicate to visitors on their site when they are online, and allow visitors to easily initiate a Skype call right from the Web page.
Last month Six Apart formed an alliance with Serious Magic and VideoEgg to offer its users the latest tools to create and post video blogs. The Skype announcement is another level of video communication for its bloggers.
Maurene Caplan Grey, founder and principal analyst of Grey Consulting, told TechNewsWorld that aligning with Six Apart is a progressive move by Skype that legitimizes video logs, or vlogs.
"Skype is bringing some mainstream credibility to the use of this technology," Grey said. "TypePad is pretty well know. It's not on the fringes. Neither is Skype anymore. But vlogs are very much on the fringes. I can clearly see video being integrated into the traditional blog."