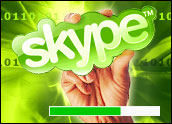 In a move to grab market share in the world's largest population base, Skype this week announced a joint venture with Tom Online, China's leading wireless Internet provider. The joint venture seeks to push Skype's Voice over Internet Protocol software and services to Tom Online's more than 70 million wireless Internet users.
The joint venture builds on a strategic alliance the companies formed last November. The companies co-developed a customized Chinese version of Skype that has attracted about 3.4 million registered users to date, making China one of Skype's top three markets.
The latest version incorporates a tab that makes Tom Online's wireless products and the contents of its popular media portal directly accessible from within the Skype experience. The cross-continental duo's goal with the joint venture is to further develop develop advanced communication and community features for mobile Internet platforms.
"By uniting Skype's market-leading global Internet communications platform with Tom Online's wireless leadership and understanding of the needs of Chinese market we believe we have a powerful mix of skills in place to bring the Skype experience to millions of Internet users," said Skype CEO and co-founder Niklas Zennstrom.
World's Largest Market
The joint venture holding structure will be owned 51 percent and 49 percent by Tom Online and Skype, respectively. Under the agreement, this joint venture company will develop, customize and distribute a simplified Chinese version of the Skype software and premium services to Internet users and service providers in China.
China is the world's largest mobile phone market by users with more than 360 million subscribers at the end of June 2005. Its number of Internet users is expected to grow to approximately 154 million by 2007, representing a compound annual growth rate of 18 percent since 2003, according to IDC.
Moreover, the demand for broadband grew by more than 140 percent to almost 43 million users in January 2005 from a year earlier.
Long-Term Play
With the convergence of mobile and Internet technologies, Skype and Tom Online's joint venture hopes to drive even more broadband uptake and capture the growth opportunities in China's substantial communications market, which was valued at about US$70.8 billion in 2004, according to government statistics.
Judy Reed Smith, founder and CEO of telecommunications industry research firm Atlantic-ACM, told TechNewsWorld that the Tom Online deal is a long-term investment for Skype — but long-term in China is often only two or three years.
"Skype is a clever company. It watched what Google did to go from a free service to a paid service. Skype has a few paid services now that are gaining some momentum. The user base is moving from a group of technologically oriented users to people who are less technically savvy," Smith said. "China is clearly a market for Skype to grab, especially if it adopts an advertising model."