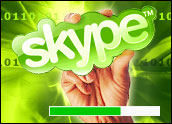 Skype is barreling ahead full speed into the business market with yet another strategic partnership, this time with an Internet telephony startup called Vapps.
The eBay-owned Voice over Internet Protocol (VoIP) firm on Thursday announced an initiative to provide unlimited, free conference calling for up to 500 participants to Skype's 100 million registered users through Vapps' Highspeedconferencing.com site. The announcement follows on the heels of SkypeOut calls becoming free to Skype users in the U.S. and Canada.
"Skype is made up of people looking to communicate with co-workers, family and friends," said Skype Director of Paid Products Michael Jackson. "With Vapps' technology, conference calling can now be used, not only as a business tool, but also as a method to connect as many as 500 contacts on one call from any country. We are very excited that Vapps is offering this to Skype callers at no cost for the service or the calls."
Competing With AOL
Skype is rapidly launching new initiatives in the face of a growing competition. AOL is perhaps the greatest threat with its new Phoneline service. GoogleTalk is also threatening to take its share of the market by virtue of its loyal search audience. Skype hopes to differentiate itself by targeting business consumers with new services.
Analysts are bullish on Skype's latest competitive move. Vapps' conference calling service is a natural complement to Skype's offerings for consumer and business users, noted Will Stofega, research manager, VoIP services, at IDC.
"Offering unlimited usage of these services will further differentiate Skype's offering for the small to medium-sized businesses looking to cut down on costs and continue to have a reliable communications tool for their clients and partners," Stofega said.
Free and Clear
Wainhouse Research estimates the conference calling industry earns between US$3 billion and $4 billion a year in revenue. The conference calling service, which will be free indefinitely, could woo more business users by offering a lower-cost alternative to traditional vendors.
Among conference calling features available with the service are the ability to mute and unmute, as well as lock and unlock conference calls. Participants can also hear the number of other callers and can set up the system to beep in or announce the names of participants. Skype and Vapps are presenting a compelling model, according to Andrew Davis, managing partner of Wainhouse Research.
"Vapps makes a bridge that works on an IP connection and obviously provides the performance and scalability that Skype needs," Davis told TechNewsWorld. "Skype started out as a pure consumer offering and it's really been moving into the business world with lots of add-ons. When people try it for personal use, they realize that in many cases it is quite suitable for business use. I believe Skype is going to be a significant presence in the business community."
On Skype's Coattails
Vapps is hoping to get a lift by riding on Skype's coattails. Vapps currently has only a few hundred people signed up for its conference calling services. Skype's subscribers could inflate that number in a hurry.
"As Skype continues its rapid growth within the Internet community, consumers as well as business users are increasingly looking for these types of services for cost savings," said Ben Lilienthal, CEO and co-founder of Vapps. "We are very excited about this launch with Skype and look forward to the rapid adoption of online conference calling."