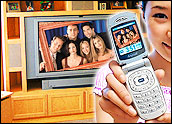 Sling Media on Tuesday announced a partnership with smartphone operating system developer Symbian to bring mobile TV to consumers.
Sling Media will deliver a version of its SlingPlayer Mobile software application for the Symbian OS in select European and Asian countries during the fourth quarter of this year. The companies plan to bring the service to the U.S. shortly thereafter. The system will use standard network connections, including 3G cellular and WiFi.
Unlike DVBH or Media Flo technologies that stream live television broadcasts to a mobile phone, the Slingbox redirects, or "placeshifts," a single live TV stream from a standard or Freeview cable connection, cable box, satellite receiver or PVR to the viewer's 3G handset or PC.
High 'Cool' Quotient
Any program viewers can watch on their home TV sets will be viewable through a Slingbox on supported Symbian smartphones. In addition, SlingPlayer Mobile lets users control their home personal video recorders to watch recorded shows, pause, and rewind live TV or even queue new recordings while away from home.
"The most amazing thing about the Sling Media solution is not that it's TV on your mobile phone. It's that it gives you the ability to put your hand into the screen of your phone and virtually reach into your living room and push your remote control," Avi Greengart, principal analyst of mobile devices for Current Analysis, told TechNewsWorld.
In other words, if you have ESPN on your cable line up at home, Slingbox lets you watch ESPN on your mobile device. If you have a TiVo device installed at home, then you can watch Sports Center highlights over and over again at will on your mobile device.
Large Potential Market
Sling Media's potential audience is large. Symbian licenses Symbian OS to the world's leading handset manufacturers. Over 82 million Symbian smartphones have been sold worldwide to over 250 majornetwork operators.
According to Gartner, Symbian accounted for about 71 percent of worldwide smartphone shipments in the second quarter of 2006. Still, there are only a few phones in the U.S. that feature the Symbian operating system. That's likely to change in the coming quarters as Nokia and others work to bring new wireless broadband capable phones to the U.S. market.
Sling Sparks Mobile TV
With its combination of place shifting and time shifting, Sling Media could bolster the adoption of mobile TV for early adopters who don't mind jumping through a few hoops. For now, though, the market for mobile TV and Sling Media's place in it is relatively small.
"When you are requiring a device to be installed in a person's home and then you are requiring a specific phone with a way to receive high-speed Internet acces on to that device, you are talking about a limited market," Greengart said.